A simple, yet captivating Stereo Setup.
Streaming music from your favorite apps (Spotity, Tidal etc) is a must nowadays. So the Cyrus OneCast takes the center stage here! A versatile streaming amplifier that combines features and musicality to keep you tapping your feet whenever you listen to your favorite music. From streaming all the way to Vinyl Records the Cyrus OneCast can offer it all with ease and authority.
The Turntable Renaissance.
Yes. Turntables are back and they are back to stay. The Music Hall MMF-2.3 is a brilliant match to this setup. Without being fussy at all, it utilizes the built-in phono-stage of the Cyrus OneCast . Featuring a gorgeous Carbon-Fiber Tonearm, this turntable is anything but entry level! Once setup correctly, it punches way above its weight!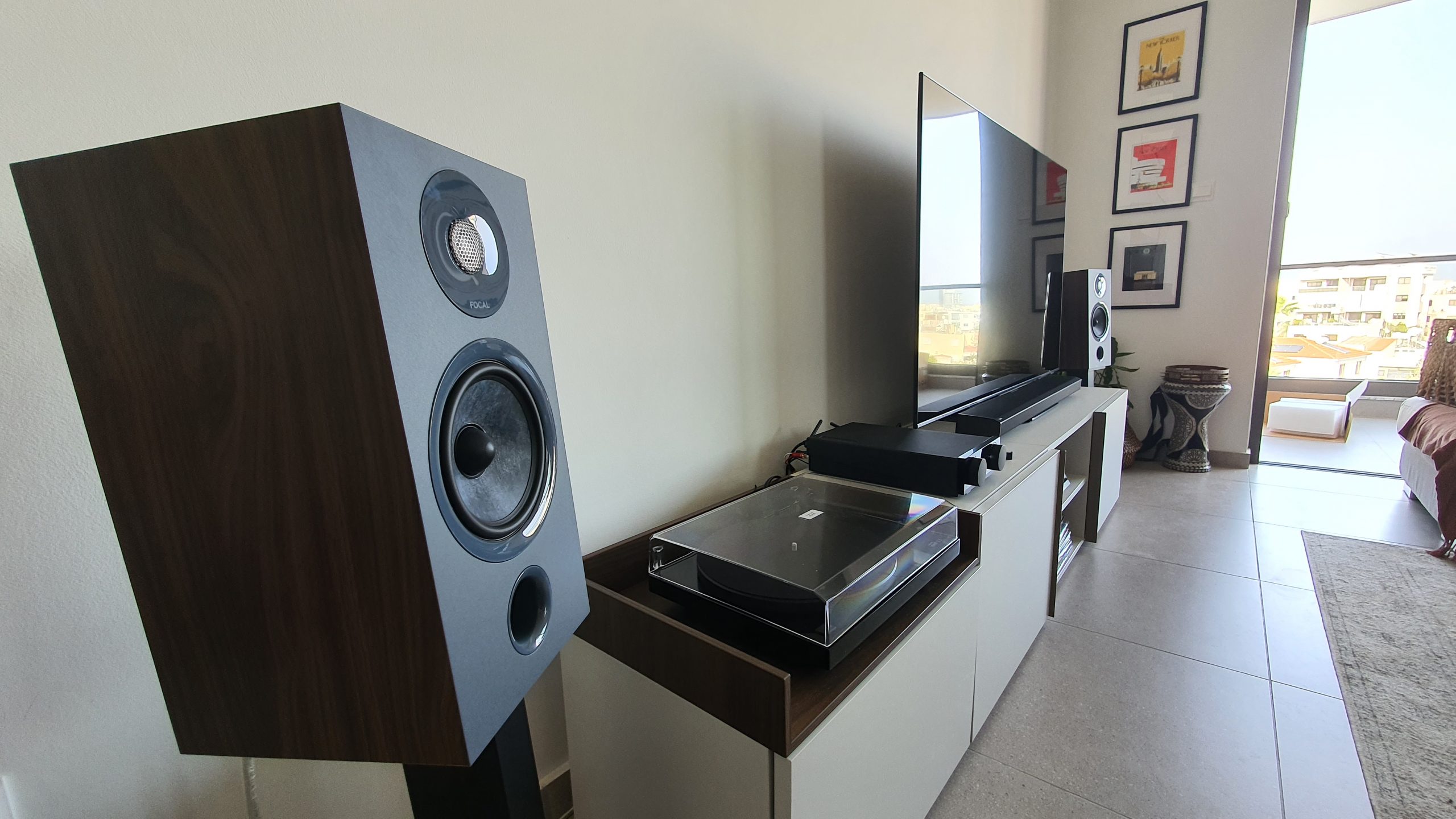 The Focal Chora 806 Bookshelf Speakers.
The Chora 806 loudspeaker showcases meticulous manufacturing and design. Let yourself be transported by the delightful, dynamic musical quality emitted by its 61/2" (16.5cm) bass/midrange speaker driver, equipped with the exclusive Focal Slatefiber cone. Alongside the TNF Aluminium/Magnesium tweeter with its silky treble, the "slate" colour of the speaker driver makes it an attractive yet high-performance solution.
Perfectly balanced, this bookshelf speaker is ideal for rooms of up to 215ft² (20m²). For most people, this is a speaker that can accompany them for many years to come. The common misconception that Floor-standing speakers outperform Bookshelf speakers should be put aside and fast. It all depends on your room size and acoustics and also which Bookshelf speaker is being compared against which Floor-Standing speaker. This is a story for another time…

The Slatfiber cone.
AESTHETICS AND PERFORMANCE
After more than four years of Research & Development, in 2019 Focal unveiled a new technology with remarkable performance: the Slatefiber cone.
Manufactured in France, this cone is characterised by its dynamic, rich and ultra-balanced sound, particularly in the midranges. With its acoustic qualities and unique "slate effect", it has become a benchmark for High-Fidelity in its price category.
AN AUTHENTIC COMPOSITE CONE
The Slatefiber cone is a composite cone comprising recycled non-woven carbon fibres – Focal is the first brand in the audio field to use recycled carbon fibres in its speaker drivers – and thermoplastic polymer. The combination of these two materials results in excellent acoustic performance, in terms of sound velocity as well as rigidity and damping.
An authentic composite cone
RIGIDITY
The carbon fibres alone provide an extraordinary rigidity. What's more, as they all oriented in the same direction, these fibres further increase the speaker driver's rigidity, and therefore enable more bass to be achieved.
DAMPING
The carbon fibres are therefore aligned, but also non-woven to ensure better damping. Thermoplastic polymer is also located within the fibres to provide the bond between them and increase damping.
LIGHTNESS
During the development phase, special attention was paid to the weight of the cones to optimize sensitivity: the carbon fibres are very light. In addition to rigidity and damping criteria, the Slatefiber cone therefore meets the speaker driver's lightness requirement.
MADE IN FRANCE
Just like the Flax, Kevlar and W cones, the Slatefiber cone is entirely manufactured in the Focal workshops located in Saint-Étienne.
In order to combine productivity, performance and French manufacturing, a semi-automated industrial tool dedicated to manufacturing the Slatefiber cone has been developed by Focal engineers.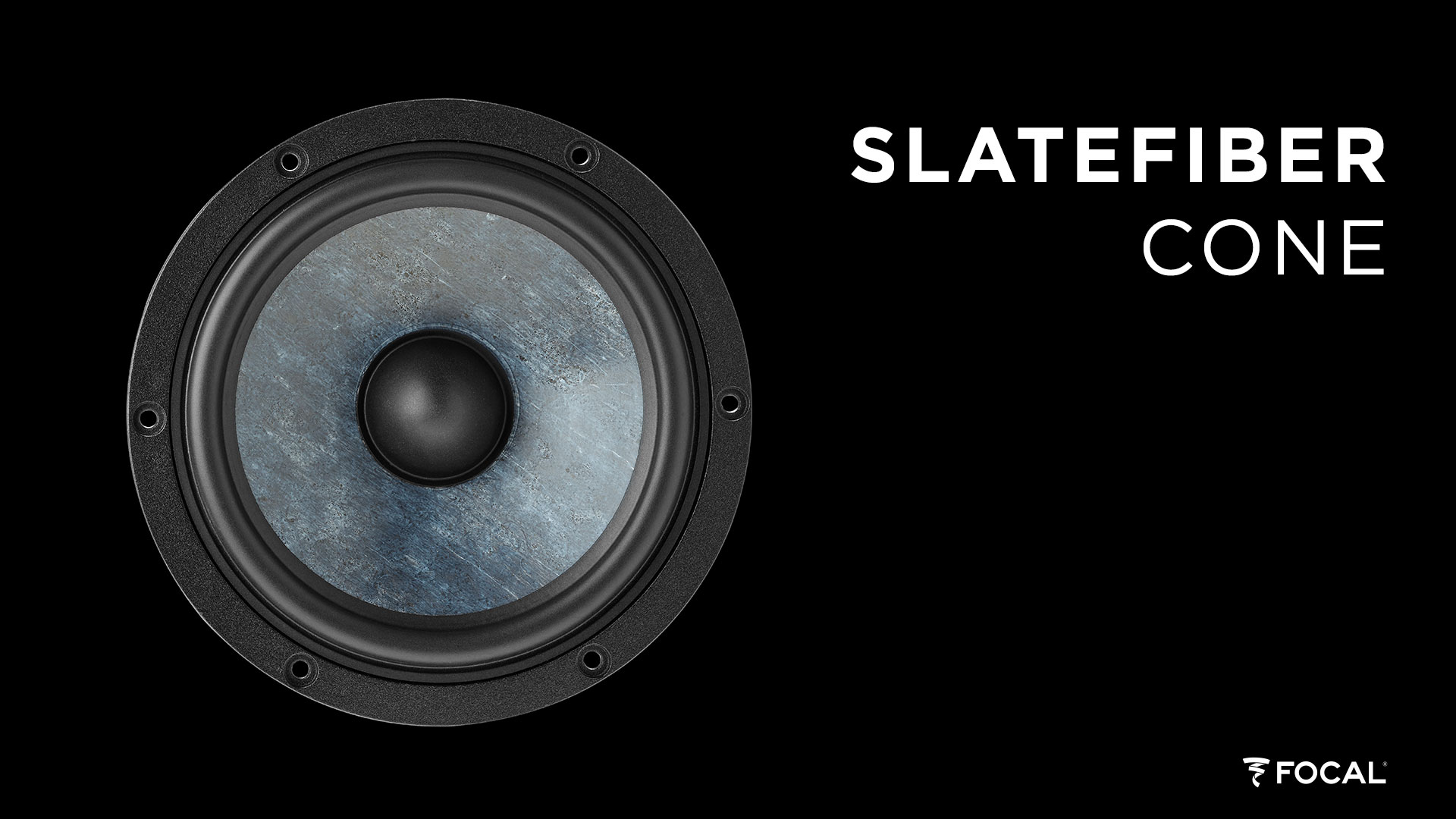 The Clearway Speaker Cable by The Chord Company.
Delivering performance at a good price. Chord Company Clearway (now ClearwayX) speaker cable has won WHAT HIFI? Best Speaker Cable award 2015, 2016 and 2017. It uses a clever combination of materials to produce a speaker cable with a performance level that usually costs a lot more!
The ClearwayX uses 14 AWG multi-strand oxygen free copper conductors – big enough to bring control and definition to both book shelf and floor standing loud speakers.
The performance has recently been significantly improved by changing the insulation from FEP to XLPE. Hence the new name. Choice of insulation has a profound effect on a speaker cable and contributes to its neutrality. The wrong choice of insulation can produce unwanted tonal colouration.
The conductors are arranged in a twisted pair configuration before a soft PVC internal jacket is applied, this helps to minimise mechanical noise and also spaces the twin contra-wound foil shields in relation to the conductors.
Shielding a speaker cable brings subtle nuances that make music come alive. ClearwayX can transform the performance of your system particularly when it comes to coherence and timing. It will let you further into your favourite music.
Available in terminated pairs and off the reel per metre. Most of our dealers have demonstration sets available, it will cost you nothing but your time to listen, and for a music lover you'll hear its worth in the first few bars of music.