THE EXTRAORDINARY PHONO STAGE
The PH-10 is an ultra-versatile phono preamplifier that offers unique features, including EQ CURVES, LOAD, and GAIN adjustments: a fully analogue design, engineered exclusively with the best components to recreate the musical event in the most natural way possible.
To control the PH-10 we developed the user-friendly Single Knob Control (SKC). Combined with the color display this rotary joggle allows quick adjustments of any function in real-time during music playback.
The PH-10 lets you select the most appropriate EQ curve for every record: the RIAA, the DECCA LONDON, or the AMERICAN COLUMBIA, and all selection appears clearly on the display.
Each curve can be "enhanced" with our proprietary technology inspired by the Neumann Cutting Lathe for superior dynamic and musicality.
THE PERFECT CARTRIDGE MATCHING
9 different LOAD options [10Ω, 22Ω, 47Ω, 100Ω, 220Ω, 470Ω, 1000Ω, 22kΩ, 47kΩ] and 4 different selectable GAIN options [0dB, ± 3dB, +6dB] will let you adjust the preamplifier accurately to achieve the best sound experience with any kind of MM and MC cartridges.
CONNECT TWO SEPARATE TONEARMS
With his two separate RCA inputs, the PH-10 can be connected to two different tonearms, each with independently adjustable settings stored into memory, even when the unit is switched off, guaranteeing flexibility and impressive user-friendliness.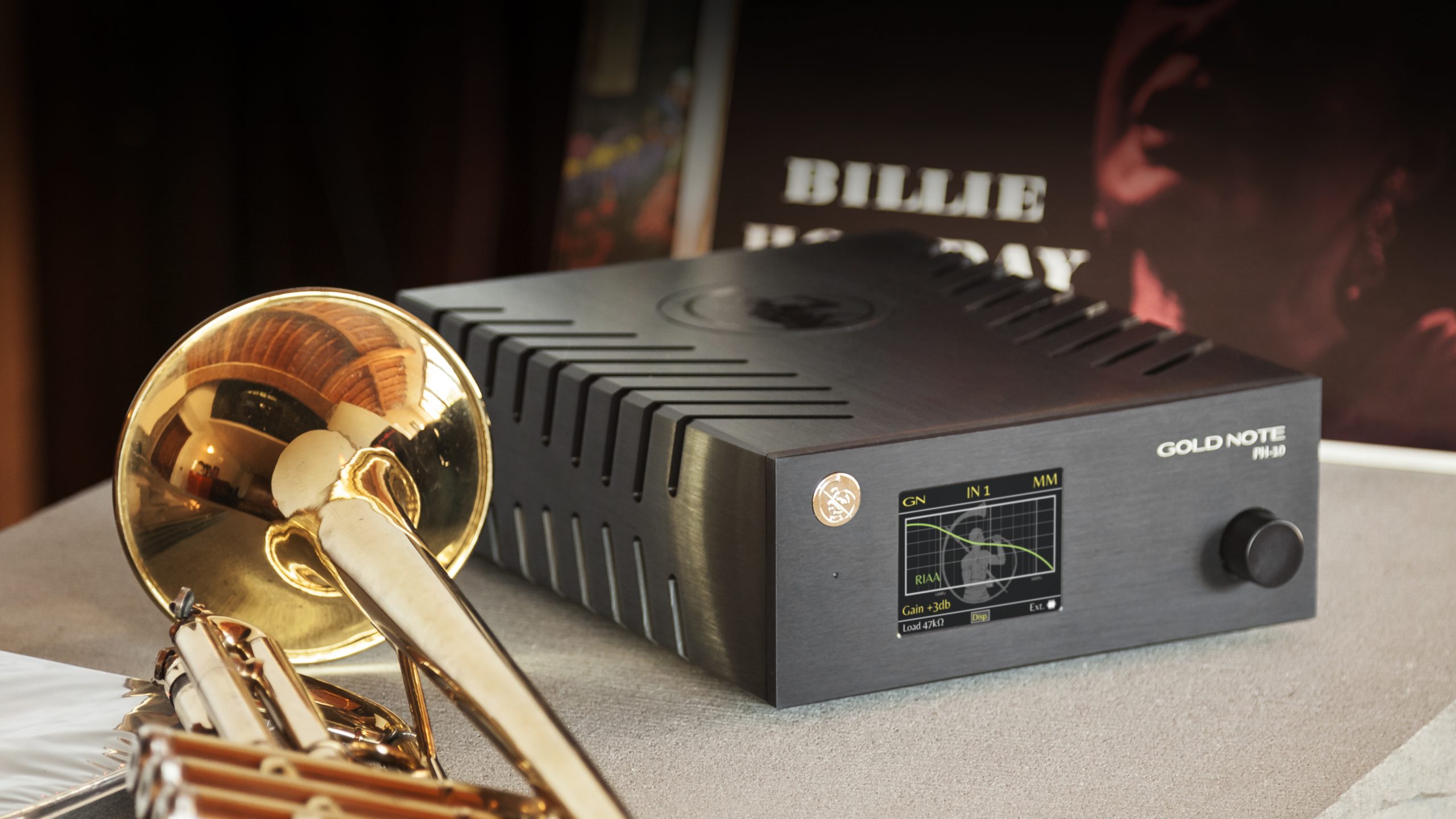 PH-10 AT ITS BEST
To maximize the performance of the PH-10 we also developed the PSU-10, a dedicated external super inductive power supply that allows the phono stage to achieve its fullest potential, reaching an even higher degree of musical realism, better dynamics, and greater three-dimensionality sound.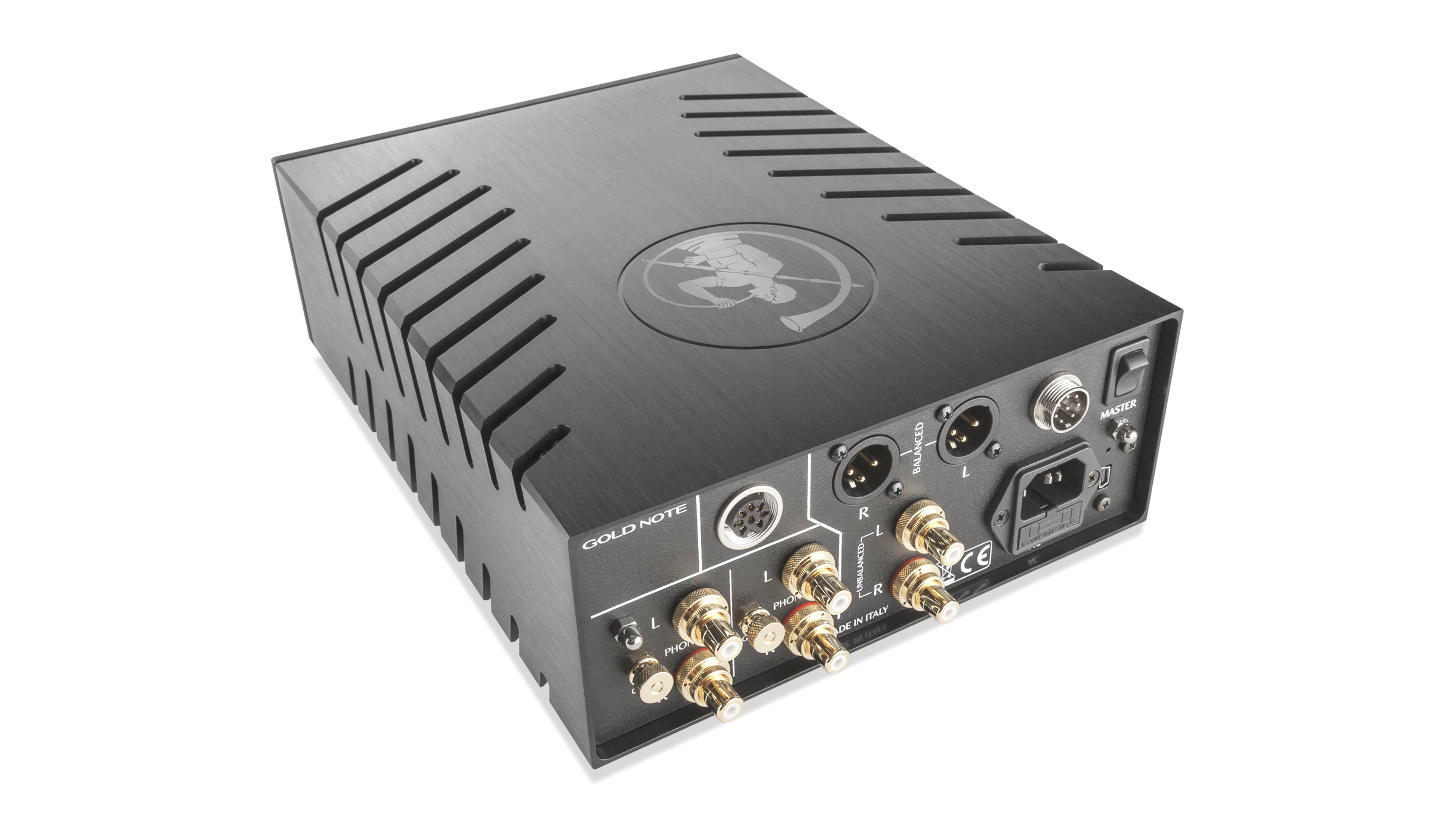 Reviews & Awards
THE ABSOLUTE SOUND
Editor's choice (2022)
SUONO
https://www.goldnote.it/download/reviews/GN_PH-10_review_Suono_04-21.pdf
AMIGOS HIFI
https://www.amigoshifi.com/mapa-del-sitio/nuevos/componentes/previos/gold-note-ph10-los-precoces-las-curvas-y-los-vicios
WHAT HIFI? THAILAND
MINT
https://www.goldnote.it/download/reviews/GN_Brand_Setups_review_MINT_01-21.pdf
AUDIO
https://www.goldnote.it/download/reviews/GN_PH-10_PSU-10_review_Audio_02-21.pdf
THE ABSOLUTE SOUND
https://www.goldnote.it/download/reviews/GN_PH-10_review_TheAbsoluteSound_05-20.pdf
SEMPRE AUDIO
https://www.sempre-audio.at/Gold_Note_PH-10_Phono_Stage_im_Test_-_Kleiner_Zauberkuenstler.id.7255.htm
HIFI BLOG
LOW BEATS
6MOONS
https://6moons.com/audioreview_articles/goldnote11/
FULLRANGE
http://www.fullrange.kr/ytboard/view.php?id=webzine_review2&no=773#.XvNrky2B17j
THE EAR
Best Buy (2019), Best Hifi Components of 2019
http://www.the-ear.net/review-hardware/gold-note-ph10psu10-phono-stage-and-power-supply
SOUNDREBELS
POSITIVE FEEDBACK
Recommended (2018), Writer's Choice (2017), Highly Recommended (2017)
Gold Note PH-10 Phono Stage and PSU-10 External Power Supply
NOVO
Best of the best (2018)
Gold Note PH-10 Phono-Stage and Gold Note PSU-10 A/C Power Supply Review
THE AUDIOPHILE MAN
Groovy (2018)
AUDIO
3. Platz Goldenes Ohr (2019)
https://www.goldnote.it/download/reviews/GN_PH-10_review_Audio_09-18.pdf
STEREOPLAY
2. Platz Goldenes Ohr (2019), Highlight (2018)
https://www.goldnote.it/download/reviews/GN_PH-10_review_Stereoplay_08-18.pdf
TNT AUDIO
http://www.tnt-audio.com/ampli/goldnote_ph10_e.html
IMAGE HIFI
https://www.goldnote.it/download/reviews/GN_PH-10_review_ImageHiFi_04-17.pdf
HIFI+
Editor's Choice (2020), Hifi+ guide to audio source components 2018
https://www.goldnote.it/download/reviews/GN_PH-10_review_HiFiPlus_10-17.pdf
TONE AUDIO
Exceptional Value (2017)
http://www.tonepublications.com/analogaholic/the-gold-note-ph-10-phonostage/
STEREO
https://www.goldnote.it/download/reviews/GN_PH-10_review_Stereo_09-17.pdf
HIFI PIG
Outstanding Product (2017)
AUDIO REVIEW
https://www.goldnote.it/download/reviews/GN_PH-10_review_AudioReview_08_17.pdf
AUDIO ACTIVITY
https://www.audio-activity.com/gold-note-ph-10.html
MONO&STEREO
Best Buy (2017)
https://www.monoandstereo.com/2017/03/gold-note-ph-10-phono-preamplifier.html