HIGHLY VERSATILE
THE LOUDSPEAKER DEDICATED TO NEARFIELD AND MIDFIELD
As well as new speaker drivers (a 5" midrange and a 10" subwoofer) with high efficiency and power handling, the Trio11 Be monitor enjoys all of Focal's very latest technologies when it comes to acoustics and electronics: TMD and NIC technologies; optimised vents that promote dynamic control and perfect bass definition; high excursion, enabling even more linearity of the subwoofer…
Thanks to its class G amplification, Trio11 Be delivers a high SPL (118dB at 1m) and offers a great versatility of use and installation configurations in nearfield AND midfield applications. A key asset, always coming along with an extremely precise sound reproduction and stereo image.
With an extended bandwidth (30 Hz-40 kHz), this loudspeaker is also composed of a 3-way monitor and a 2-way monitor, just like Trio6 Be, which lets you check the mix transfer sound quality thanks to FOCUS mode.
With Trio11 Be, power and versatility are waiting for you!
Feel the difference!
KEY POINTS
High SPL: 118 dB @ 393/8" (1m).
FOCUS Mode: two monitors in one with remote switchover.
Pure Beryllium inverted dome tweeter: very low directivity, linearity, dynamics.
'W' composite sandwich cone on midrange and subwoofer: neutral sound, no distortion.
Bass, mid-bass and treble settings on rear panel: optimum acoustical integration.
Optimised decoupling of the midrange speaker driver thanks to silent blocks.
Ultra-low distortion and noise.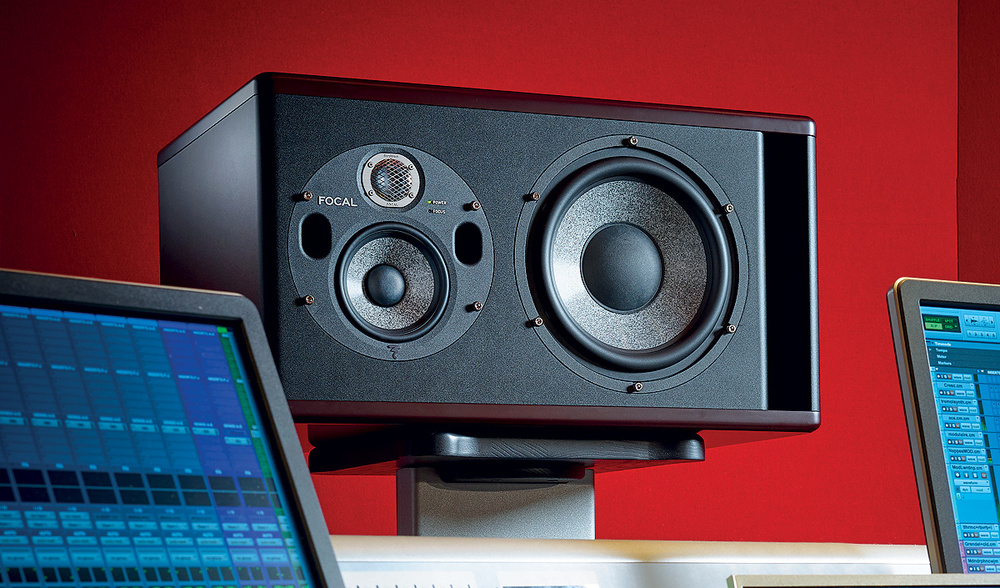 ADJUSTABLE PLATE
The aluminium plate incorporating the tweeter and midrange is adjustable through 360°, in 90° increments, so the Trio11 Be can be used either vertically or horizontally.
This function makes it possible to optimise the monitor's performance based on its positioning in the room and the latter's acoustics.
DYNAMICS, NEUTRALITY AND PRECISION
A Focal signature, the pure Beryllium inverted dome tweeter offers a perfectly linear frequency response and a detailed reproduction of the treble. Its exclusive profile guarantees optimum energy transfer from the coil to the dome making a high efficiency tweeter (capable of covering 5 octaves from 1,000 to 40,000 Hz) while providing wide sound dispersion.
The 10" subwoofer's 'W'-profile cone enables a true optimisation of the frequency response thanks to a precise control of the rigidity, lightness and damping. The balance between these three fundamental parameters is the basis of the monitor's incredible sound neutrality.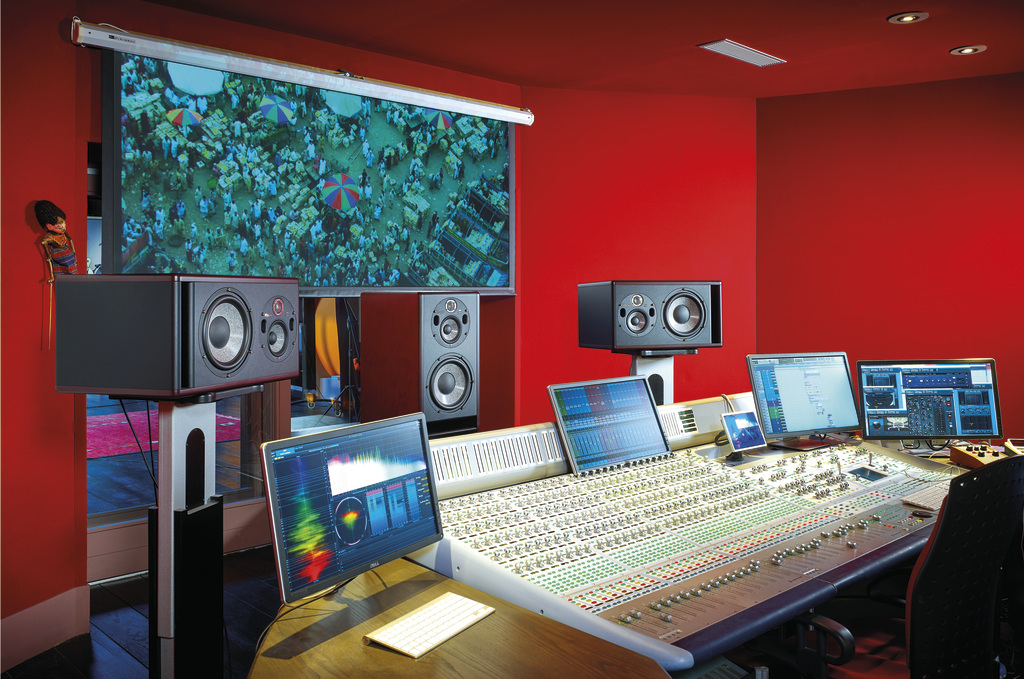 METICULOUS FINISHES
The cabinet, developed and manufactured by Focal in its cabinetry workshop in Bourbon-Lancy in France, consists of two side panels and a body in MDF measuring between 13/16" (21mm) and 13/16" (30mm) thick: an indicator of the quality of each material chosen, combined with careful attention to the finishes.
Trio11 Be has two side panels in a natural dark red burr ash veneer and a black central body, for an aesthetic rendering that is also discreet and hard-wearing.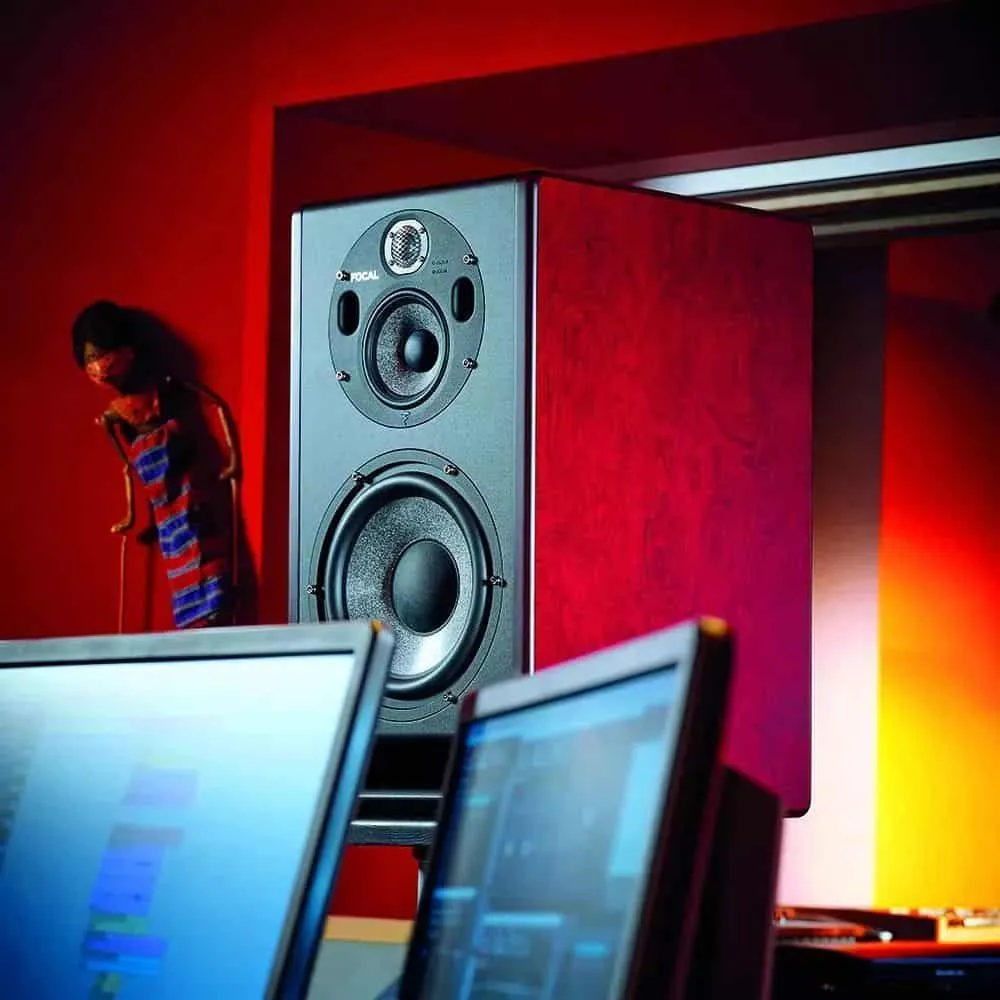 2 MONITORS IN 1
Trio11 Be combines two monitors in a single enclosure.
The 3-way monitor provides a flawless control of the entire audio spectrum (30 Hz – 40 kHz).
The 2-way monitor, with a frequency response of 90 Hz to 20 kHz, makes it possible to check the transfer quality of mixes on systems with a limited frequency response in the bass (televisions, computers, cars, etc.).
3-way mode 115dB SPL (peak at 1m)
2-way mode (Focus) 105dB SPL (peak at 1m)