TerraMaster T9-423
Designed for High Performance Requirements
The 9-Bay T9-423 is suitable for SMB users who need high-performance storage solutions. High performance means that users can easily handle high-load assignments, while multiple business-level backup solutions guarantee user' data safety and prevent the potential risk of data loss.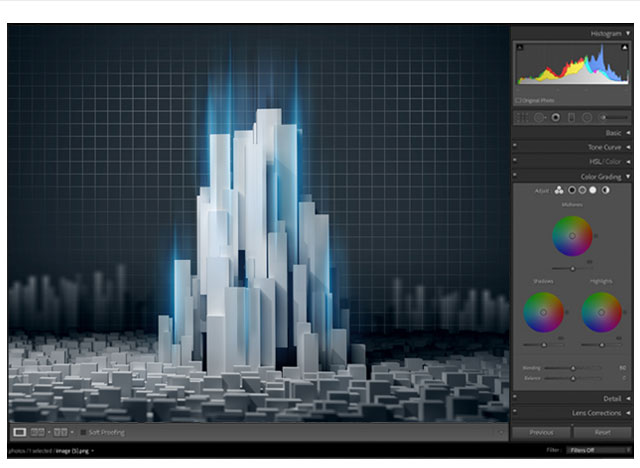 Excellent Performance
This is a high-performance storage solution for iSCSI virtual storage and database service for SMB users. It uses an Intel Celeron N5095 quad-core processor with 2.0 GHz and maximum turbo to 2.9 GHz. It is integrated with a GPU graphics card, AES NI hardware encryption, and equipped with two 2.5 GbE interfaces and 8 GB DDR4 dual-channel memory (expandable up to 32 GB).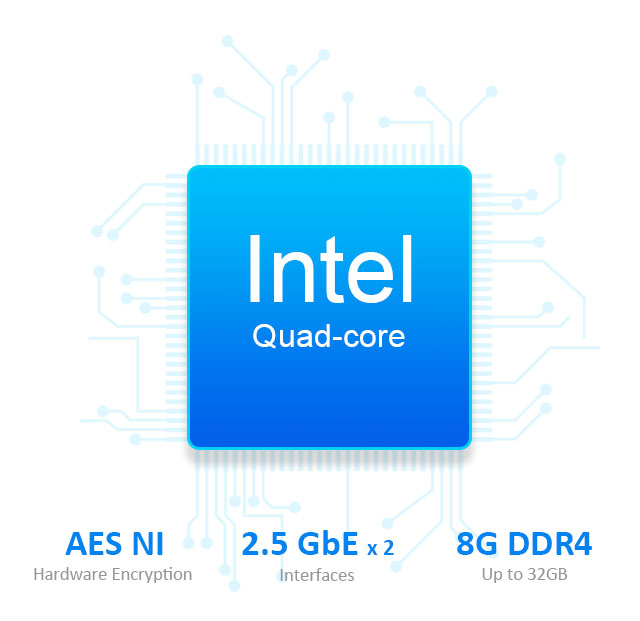 The Ideal Choice for SMB' Data Management
The T9-423 can deal with high-load workflow and a high level of concurrent user access. Rapid document storage and management are facilitated by high-speed document retrieval, efficient transmission performance, and rich TerraMaster disaster backup and recovery solutions.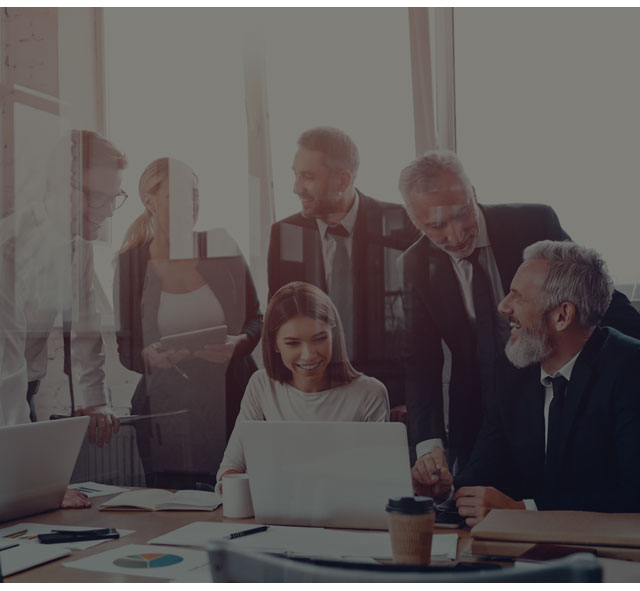 Higher Transmission Speed
The T9-423 is configured with two 2.5 GbE interfaces, supporting 2.5 GbE high-speed network bandwidth. The transmission speed can reach 283 MB/s (Seagate IronWolf 18TB x 4, RAID 0) . Link Aggregation provides a network bandwidth up to 5 Gb, thus providing a cost-effective solution for multi-user and high-concurrent file access.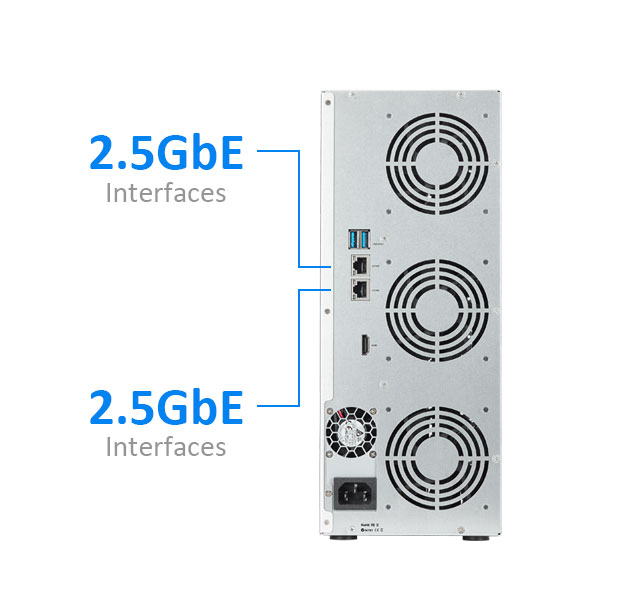 High Speed Network and Flexible Extension
The T9-423 is configured with two 2.5 GbE interfaces. Link Aggregation provides a network bandwidth up to 5 Gb. The built-in M.2 NVMe slot realizes SSD cache acceleration and significantly increases the storage efficiency of the disk array. To meet performance enhancement expansion requirements, the memory can be extended to as large as 32 GB.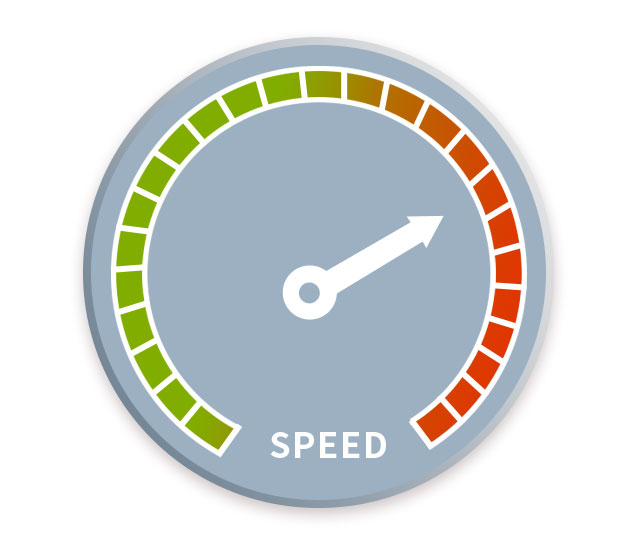 Small-sized Compact Design
Structural optimization has remarkably reduced the space occupied by the T9-423, thus realizing product miniaturization. By adopting both vertical and horizontal designs, the T9-423 better satisfies the usage requirements of small-sized business users with limited space.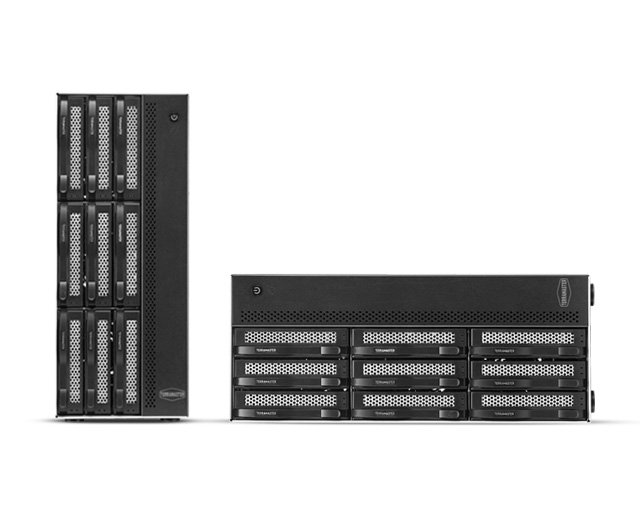 Very Quiet
It is essential that a desktop NAS is very quiet. The T9-423 has a high-quality silent fan and optimized internal structure, which increases the equipment's internal wind pressure and reduces the working temperature of the hard disk. This remarkably reduces resonance between the equipment components and the hard disk, so even in a full-load working environment, the T9-423 maintains a low-noise performance.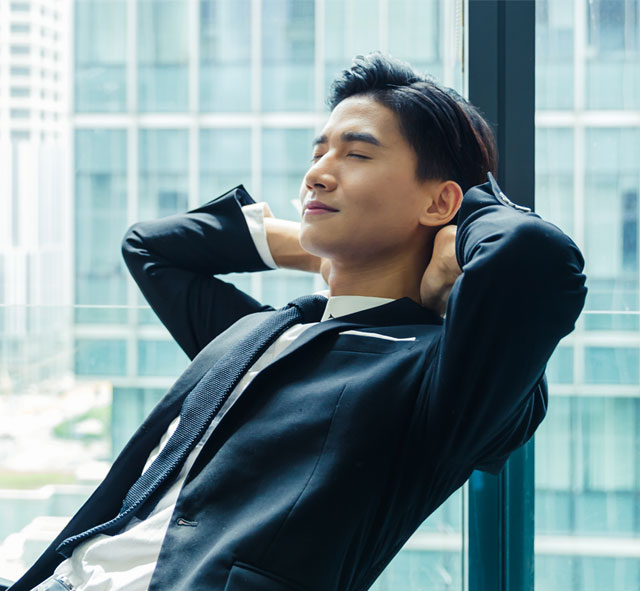 Flexible Configuration and Management of Disk Arrays
The T9-423 supports rich RAID types, which can be selected based on your data access and data protection level requirements. Hot Spare can be configured for the disk array and any of the following array types can be chosen according to the number of hard disks: Single, RAID 0, 1, 5, 6, 10. To reduce the risk of material loss and ensure important materials are kept, the T9-423 supports online capacity expansion and online migration of RAID array.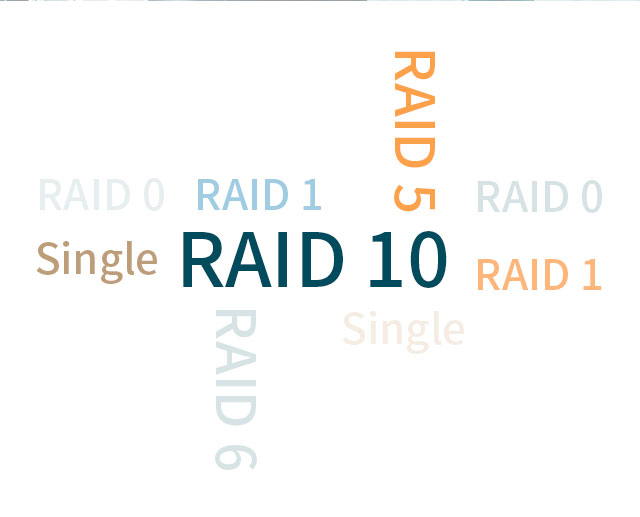 Across-Platform File Management and Sharing
Supporting most of file services (SMB, AFP, SFTP/FTP, iSCSI, NFS, and WebDAV), the T9-423 can fully satisfy file management requirements in different network environments. TerraMaster's web file management tool, File Manager, is easily operated with visualized interfaces, while its classification and search functions can make it simple to organize and share data.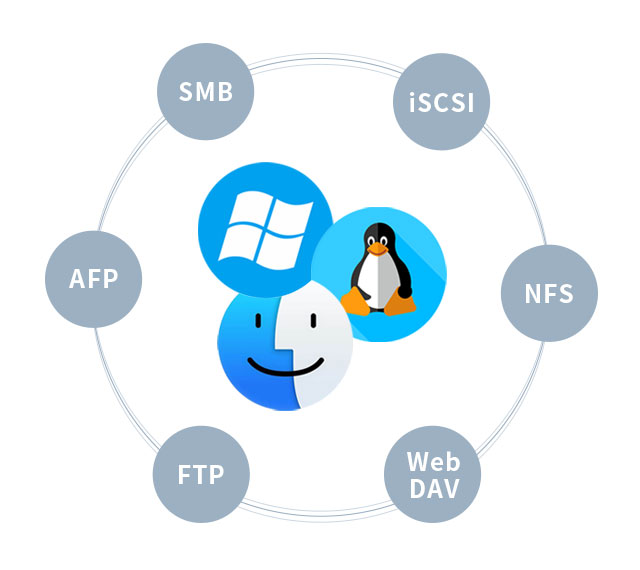 Enhance the Safety of your Data with a Superior File System
Superior storage technology and optimized snapshot technology are the cornerstones of the BTRFS file system, which is what TerraMaster's T9-423 relies on for advanced data protection, the prevention of data corruption, and minimal maintenance expenses. This file system promotes high data integrity while promoting flexibility and efficiency in the areas of data protection and recovery. The Btrfs file system features data recovery capabilities at the file or folder level for faster data recovery and greater flexibility for businesses.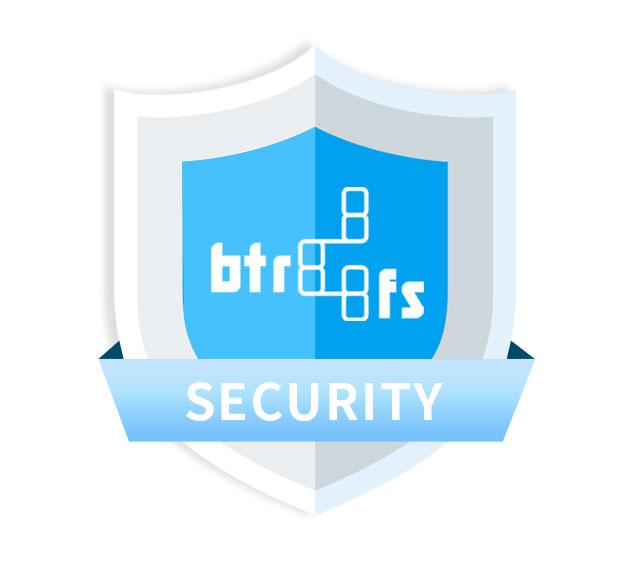 Virtualization Storage Solutions
TerraMaster iSCSI supports VMware vSphere and Windows Hyper-V virtualization storage solutions. The simple management interface enhances working efficiency and optimizes calculation efficiency, as well as facilitating the shunt of storage operations.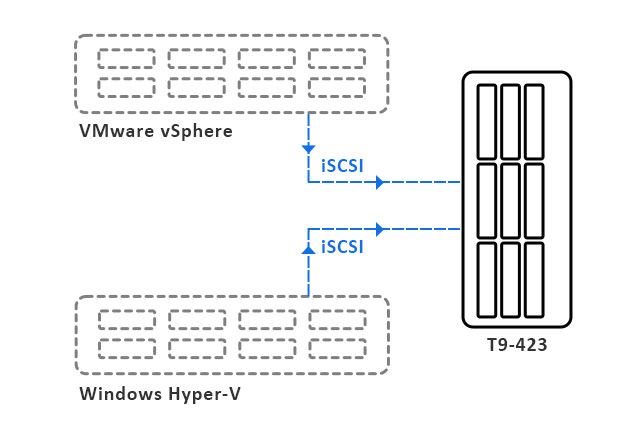 Multiple Backup Solutions
Integrated with multiple backup applications, the T9-423 uses visual user interfaces and reliable storage technologies to protect your precious data.
Centralized Backup: Backups for virtual machines, employees' PCs, and file servers are managed centrally, facilitating the rapid restoration of data after an incident.
Duple Backup: To provide several offsite backup versions, Duple Backup offers advanced data protection by backing up files to another remote TNAS, file server, or cloud drive.
Snapshot: Take continuous snapshots of your folders or iSCSI LUNs by enabling snapshot schedule. When a disaster occurs, it can roll back to points-in-time and restore to the last backup, ensuring your data is well protected.
CloudSync: Back up your data to a mainstream cloud drive to provide remote backup versions, making your data more secure.
Striving to Satisfy Small and Medium-sized Businesses
Business users can easily build file storage servers, mail servers, web servers, FTP servers, MySQL databases, CRM systems, Node.js, and Java virtual machines, as well as a host of other commercial applications.