TerraMaster F4-210
Extraordinary, Cost-effective Performance
TerraMaster's F4-210 is equipped with an ARM V8 64-bit quad-core processor, a frequency of up to 1.4 GHz, and a read/write speed reaching 124 MB/s (RAID 0, WD Red 4TB x 2). With functions including file storage, multimedia management, data backup, cloud synchronization, remote access, and many more, the device is suitable for applications ranging from home multimedia entertainment to small office and home office (SOHO) settings. As an affordable device, the F4-210 is only half the price of a NAS with an Intel x86 quad-core processor.
Feature-packed Network Storage Server
F4-210's storage capacity can reach up to 64TB. The device supports several array modes, including RAID 0, RAID 1, RAID 5, RAID 6, JBOD, and SINGLE, as well as HTTP, SMB/CIFS, AFP, FTP, NFS, and WebDAV. Additional features include users, user groups, and shared folder permissions settings. Read/write permissions for every user can be set as needed, and network storage space can be allocated for photos, videos, music files, and office documents.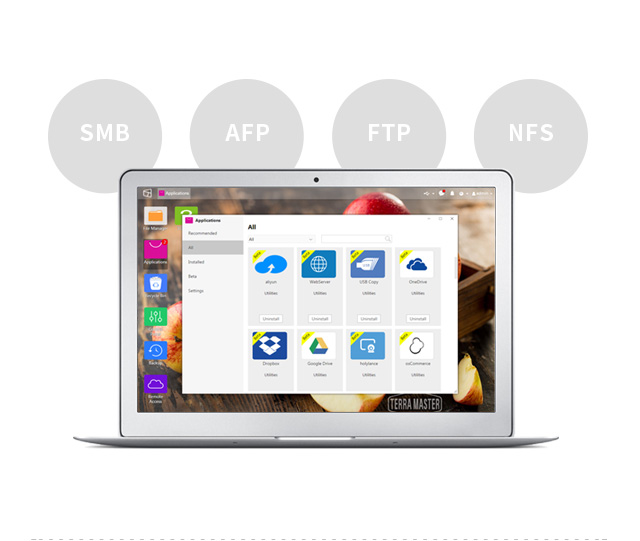 Multimedia Powerhouse
F4-210 fully supports Emby and Plex, bringing your videos, music, and photos together into one place. Leveraging the rock-solid multimedia management capabilities of Emby or Plex allows you to turn your F4-210 into a feature-rich entertainment center. The servers keep your personal media beautifully organized, always ready for on-demand streaming to your PC, mobile device, or games console. Enrich your media with plot summaries, posters, album covers, and enjoy everything from home or on the go. You can even stream live TV to any device, manage your DVR, and enjoy your personal library. No more fumbling with IP addresses! Just sign in and play on any device, anytime, anywhere.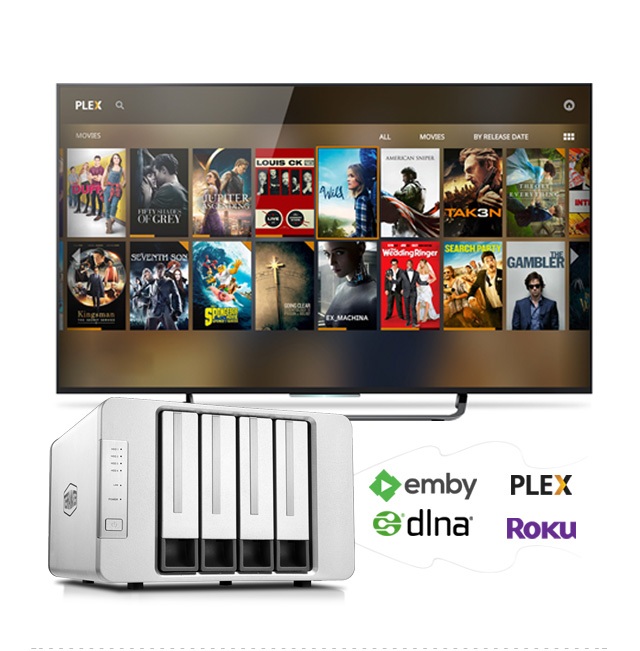 A Private Space in the Cloud
TerraMaster's TNAS.online service spares you from the hassle of setting up DDNS, network settings, and port forwarding rules when creating a personal cloud drive. Rights of access can be tailored to your family, relatives, staff, or friends, allowing you to share your happiness at no extra cost. The F4-210 supports file synchronization across various cloud drives, including Google Drive, Dropbox, and OneDrive, easily creating data transmission channels between your personal cloud and public cloud drives. Enjoying the benefits of a convenient cloud life has never been easier.
Satisfying Small Business
Dozens of free applications are available in the TOS Application Center, including backup, security, business, utilities, multimedia, and development tools. Small businesses can rapidly and conveniently build file storage servers, mail servers, web servers, FTP servers, MySQL databases, CRM systems, Node.js, and Java virtual machines, as well as a host of other commercial applications.
Sleek, Advanced, and Powerful: TOS 4.1.X
With TOS 4.1.X, the most recent version of the TOS operating system, you can back up your data, manage your file server, and optimize your sharing services in an intuitive, simple, and user-friendly way. The OS includes state-of-the-art software with rich application content, feature-rich multimedia services, and countless ways to streamline data backup.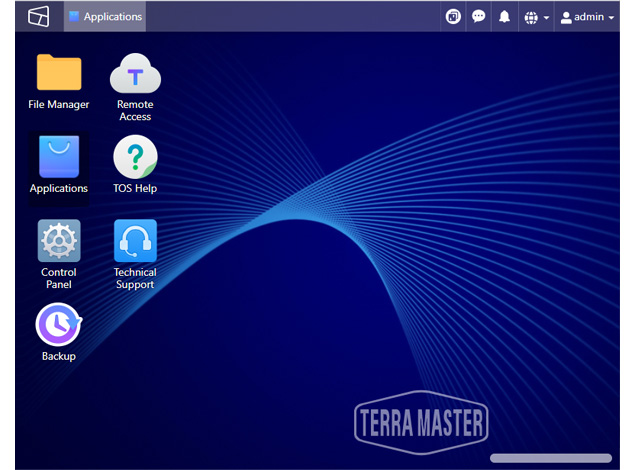 Docker Brings You More Possibilities
The F4-210 is the only lightweight NAS on the market that supports Docker. The Docker application integrates Docker Hub, the world's leading service for finding and sharing container images with your team and the Docker community. Docker Hub is the world's largest repository of container images, and an array of content sources, including container community developers, open source projects, and independent software vendors (ISV), are now building and distributing containerized code. Users can access free public repositories for storing and sharing images, or they can choose subscription plans for private repos.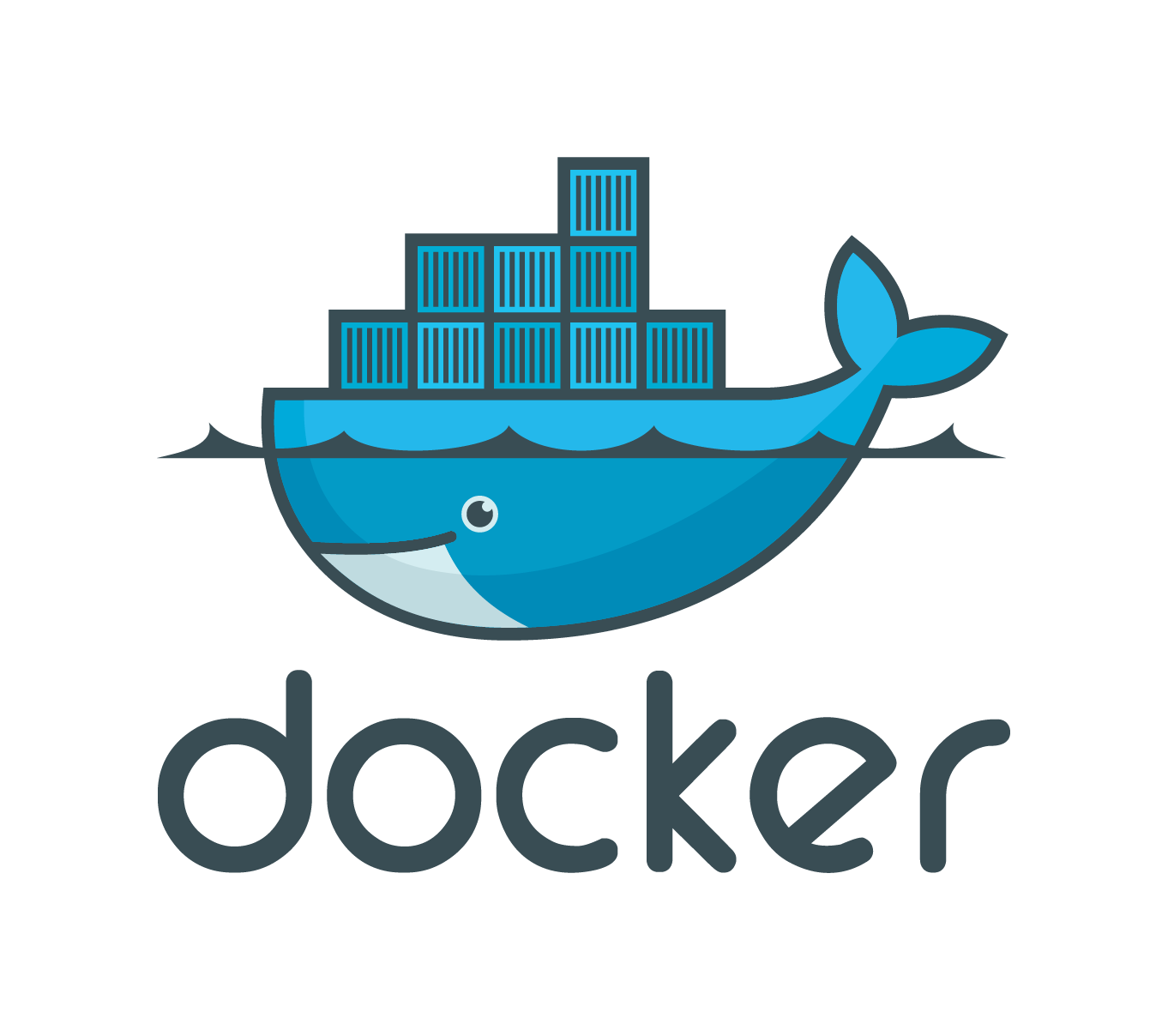 Advanced Data Security
As an ideal backup server, the F4-210 allows you to back up data from your Windows PCs, Mac computers, mobile devices, USB storage devices, or file servers. TOS offers diverse backup methods: Mac users can choose Time Machine, Windows users AOMEI Backup, mobile devices TNAS mobile APP, USB devices USB Copy, and file servers Rsync backup.
Smart Mobile App
TNAS mobile is a dedicated mobile app developed for TNAS users by TerraMaster. The app provides quick and unrestricted access to your TNAS device through your iOS or Android. The latest update to TNAS mobile added a mobile administrator feature, which makes it easier for TNAS administrators to use mobile devices remotely to configure their devices, greatly improving flexibility and management efficiency.
Straightforward Installation
Installing and initializing the F4-210 is simple and straightforward, with TerraMaster guiding you through the process in minutes. You can choose to operate the device with your computer or mobile device. If you encounter any operation difficulties, our technical team is ready to provide quick help in 24 hours.