Fixed Wallmount Large – Universal Series
The M Universal Wallmount Fixed and Tilt series has been developed to satisfy the growing demand for extra large screen installations into the commercial and public sectors.
Capable of supporting weights of 125kg, the new super-size wall mount is designed to support larger screens, such as heavy touch screens and extra large displays in public places. The universal interface fits screens with VESA mounting patterns up to 1200mm x 900mm and has adjustment screws that enable the screen to be leveled once mounted.
The Multibrackets M Universal Fixed SD is a versatile wall mount for large display installations. With its smart design the mount can be used for both landscape and portrait installations. With a maxweight capacity of 125kg it can handle screens up to 110″. With a wide VESA range of 1200×900 it can also handle most VESA specifications large screens are using.
The Multibrackets M Universal Mount SD series of fixed, tilt and pull-out mounts from Multibrackets are engineered to solve tough installation problems such as leveling and stud location. Installerinspired features make installation and maintenance safe and easy. This series of mounts makes it easy to take control of your installation. Universal and with low-profile mounts they are engineeredfor speed of installation and usability. With a variety of products ranging from a single TV to a video wall matrix for digital signage, Multibrackets SD mounts are the perfect solution for manyapplications.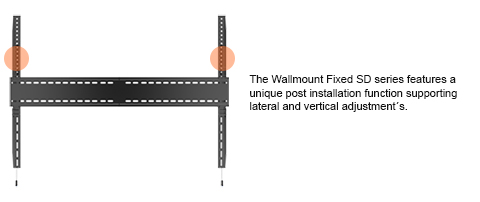 Features
Create almost any Video Wall configurations imaginable
Clean look & easy to install
Perfect for digital signage, educational and corporate installations.
To be used in both landscape and portait installations.
Engineered for speed of installation and usability.
Slim 45mm distance to wall
Super Duty (SD) 125kg max load
Superduty 3mm cold-rolled steel
Arms latch securely
Anti-theft: Lock and key (optional)