HOME CINEMA IMMERSION
CENTRE SPEAKER
Kanta Center is the perfect way to complete a multichannel system from the line. It provides the exact same level of performance, whether at low or very high volume. It is therefore an excellent addition when combined with Kanta N°1 floor standing loudspeakers or the bookshelf loudspeaker, whatever the front and back configuration. The extreme definition of the higher mid-range register and its tonal balance make this a formidable weapon in any Home Cinema set-up. Film fans will be surprised by the sound clarity and speech intelligibility, which are far superior to the norm. The remarkable neutrality lends itself to thrilling emotion for an unparalleled Home Cinema experience. The Sub 1000F subwoofer is the complementary solution to make an ultra high level Home Cinema configuration. And, when it is then linked with the 300 ICW 4 in-ceiling loudspeakers, even the most exacting film fans will enjoy an incredible 3D audio experience in Dolby Atmos, DTS X or Auro-3D.
Optional stand available for optimal integration under the screen.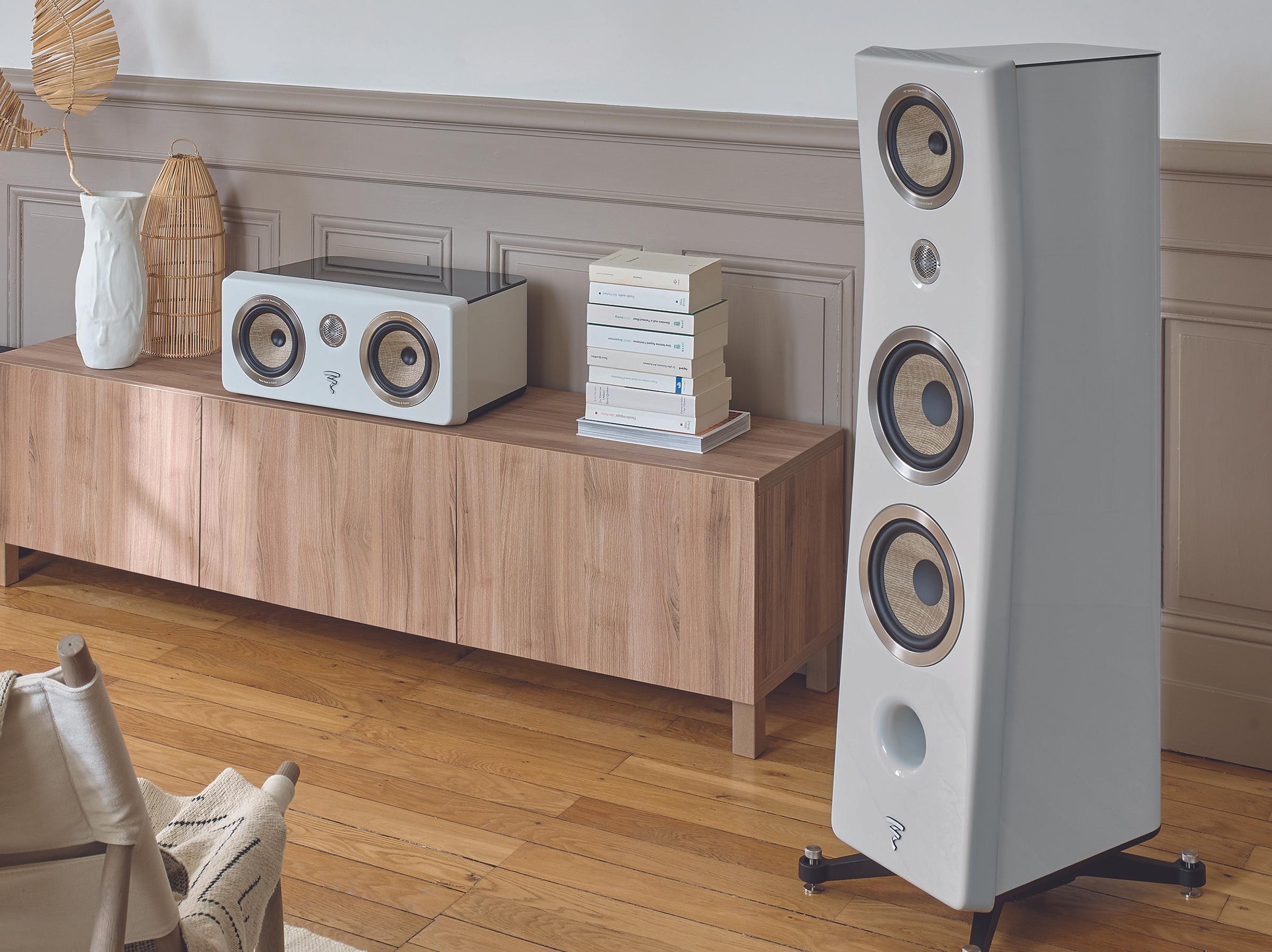 BERYLLIUM AND FLAX
For the very first time, a Flax sandwich cone speaker has been combined with a Beryllium tweeter. Flax is the answer to the low mass/rigidity/damping equation, leading to sound clarity and precision. This unique Flax/Beryllium combination gives music incredible warmth and musicality. Made in France, this patented flax cone has already proven itself in Focal home and in-car speakers. The midrange speaker uses TMD (Tuned Mass Damping) suspension, and every Kanta speaker is also equipped with an NIC (Neutral Inductance Circuit) motor, which stabilises the magnetic field for perfectly defined sound and better controlled bass.
HIGH DENSITY POLYMER
Everything is designed and made to create acoustic softness and warmth: the density and stiffness of the front panel and cabinet materials, softened angles and double port vents. The front panel is made of a new material to suit the acoustic parameters. It is moulded in one piece from High Density Polymer (HDP). This material has excellent performance: it is 70% denser than MDF, 15% stiffer and provides 25% more damping. The one-piece front panel totally eliminates any sound diffraction. Kanta incorporates Power Flow technology with two vents, on the front and rear faces, to limit bass compression.
DISTORTION IS THE ENEMY
Focal's research is geared towards reducing distortion in every register. With Kanta, the treble register is reproduced by a new pure Beryllium tweeter. This IAL3 tweeter combines the IAL (Infinite Acoustic Loading) and IHL (Infinite Horn Loading) tweeters features, both of which help with the absorption of waves, thus lowering the tweeter frequency.
AND THAT'S ALL…
Our engineers have revisited their choice of 'Focus Time', which corrects speaker alignment, making them the same distance from the ear. The cabinet is made in one-piece integrally moulded wood. The Zamac base also brings out masses of character. With its spikes and cups, the base provides great stability from a very small footprint. Final details: the glass-covered top and magnetic grilles. When these are removed, they reveal the speakers' flax cones, the final design touch that gives Kanta its unique look.