SB12-NSD Subwoofer
Product Overview
If you're looking for an absolute steal of a subwoofer deal, the SB12-NSD is a well-balanced powerhouse that blends with any speakers to provide the perfect foundation of low-frequency output. Equally adaptable for music, movies, TV and gaming, in any room, the SB12-NSD produces deep, tight and articulate bass at any drive level with pinpoint accuracy and transient speed. With this low price, room-friendly design and limited supply, these subwoofers will disappear fast.
From the thunderous pounding as a helicopter descends from overhead, to the thumping bass line of your favorite songs; the compact SVS SB12-NSD subwoofer delivers the sonic slam and room energizing SPLs that bring your entertainment to life.
A combination of innovative driver design, effortless amplifier power, handsome styling and compact dimensions make the SB12-NSD a world class performance at any price. The subwoofer easily integrates into any room and adds a powerful new dimension to all your entertainment. Feel sound like never before with dynamics that make your hair stand on end and effects that make you jump out of your seat. Best of all, you will never find this level of rock-solid SVS engineering and deep, articulate bass performance at such a low price, ever.
Forceful SVS 12″ NSD High-Output Driver
With SVS, compact and affordable doesn't mean compromising on performance. The 12" driver in the SB12-NSD handles every watt of the Sledge amplifier's power and pumps out loads of deep, flawless and powerful bass with ultra-low distortion, even when pushed to the absolute limit.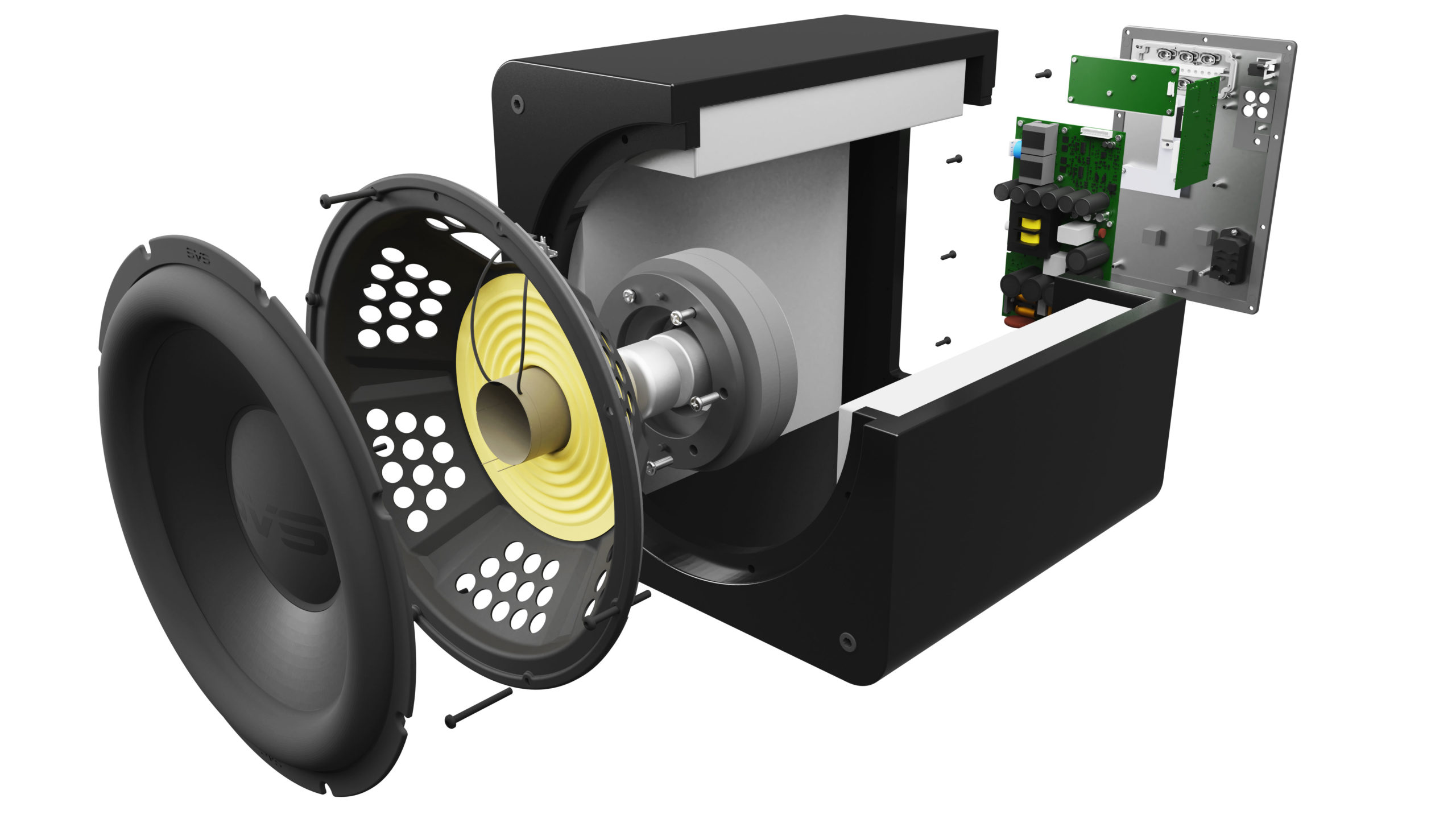 Sledge Amplification: Foundation of Room Energizing Bass Performance
True to the SVS philosophy, the SB12-NSD Sledge STA-400D amplifier has been rigorously engineered to enhance the listening experience by providing quick, smooth and precise signal processing at all drive levels. With digital bass management features and flexible set up options, the Sledge amp makes it easy to optimize for any equipment and to accommodate any room characteristics. Conservatively rated at 800 watts peak power, and 400 watts continuous power, the SB12-NSD effortlessly works with the driver to deliver intelligent, powerful bass performance.
Handsome New Styling, Versatile Placement Options, Easy Room Integration
The SB12-NSD is available in premium Black Ash finish for high end styling that complements its stunning performance. At just over 14" on all sides, the compact SB12-NSD is incredibly easy to integrate into any living space and can even be placed inside furniture for a totally discrete set-up. The sealed box cabinet is optimized for deep, room-energizing bass, lightning quick speed in transients and revealing musicality that will suit both audiophiles and hone theater fans alike.