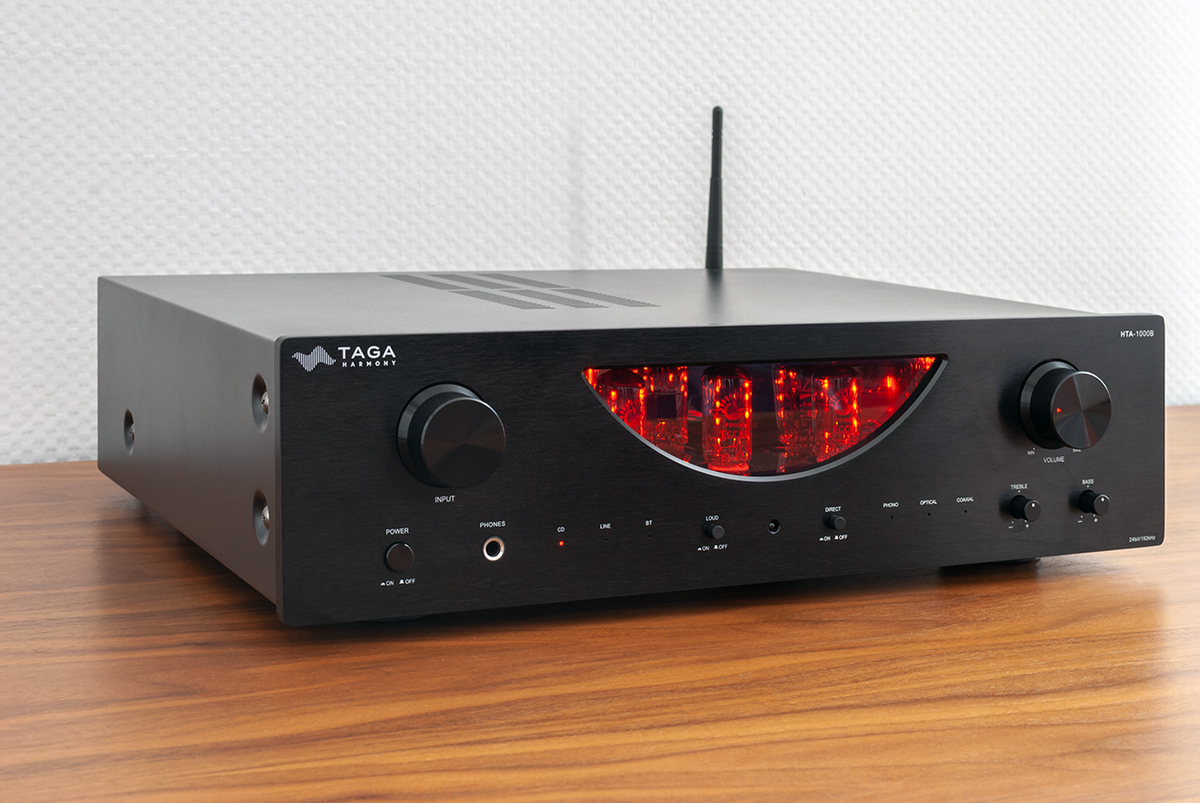 The Magic of Valves!
HTA-1000B is a 2 x 105W / 8ohm high-fidelity but still affordable hybrid integrated amplifier utilizing three high-performance PSVANE vacuum tubes from the Classic series in the preamp section and four Toshiba transistors at the output.
This solution ensures a very warm, linear and lifelike sound with high dynamic presentation at the same time.
High-performance tubes, high-power toroidal 400W transformer provides stable, constant and immediately-available energy at any volume level.
The audiophile grade Japanese ALPS volume potentiometer ensures minimal noises and channels crosstalk and has excellent operational feel and limits errors between the two channels.
The audiophile grade WIMA capacitors ensure stable playback improving music tone and sound field depth.
The high-end class, gold-plated speaker connectors offer almost lossless audio signal transmission to the speakers.
Analog inputs with high-end solid machined brass RCA sockets can accommodate up to 3 stereo devices including a turntable (MM cartridge) so you can enjoy music from your favorite vinyl records.
You can connect a range of digital devices via optical or coaxial inputs and a built-in premium high-resolution 24bit / 192kHz DAC will always provide the best sound performance.
The HTA-1000B is also an ideal companion for mobile devices – stream music from smartphones, tablets or computers compatible with Bluetooth®.
For those who prefer discrete listening we equipped the HTA-1000B with a high-fidelity headphone preamplifier.
Preamplifier output is dedicated for an optional external power amplifier or powered subwoofer and speakers.
The HTA-1000B offers additional options for easy upgrading the sound quality:
– Removable IEC power cable gives you an option to upgrade your system with a premium audiophile power cable in any time;
– The tubes are installed in high-quality ceramic sockets and they can be very easily exchanged for new tubes of your choice.
The HTA-1000B combines the analog sound of tubes with the high power of transistors and provides the best sound!
Hybrid amplifier
What does it mean and why does TAGA Harmony use this approach?
Hybrid means a combination of two different techniques to create an amplifier in one device: the World of tubes and the World of transistors.
TAGA Harmony amplifiers use vacuum tubes in the preamp section and transistors in the power stage. This results in tube, soft and analog-like sound character and at the same time high dynamics and power provided by transistors, which is usually a weak point of pure tube designs.
The sound of TAGA Harmony hybrid amplifiers is not only silky and rich but also powerful and dynamic. In addition, hybrid amplifiers compared to pure tube amps have better abilities to properly drive different kind of speakers.
After being turned on a hybrid amplifier requires to warm up its tubes to reach its full sound capabilities – it usually takes from 5 to 15 minutes depending on model and room temperature.