HIGH-END SOUND AND DISCRETION
2-WAY OUTDOOR SPEAKER
With its discreet design, adapting perfectly to any outdoor space, the OD Sat 5 loudspeaker delivers Focal Sound quality in all weathers and for a long time. IP55 certified and featuring anti-UV treatment, it withstands adverse weather and extreme climates.
With the benefit of Focal's know-how, OD Sat 5 offers high-end sound quality. It includes a bass-midrange speaker driver with Iris IP cone (5 1/8" / 13cm) and Focal's exclusive Aluminium 'M'-shaped inverted dome tweeter. Its integrated transformer also makes it 70/100V compatible and can cover large spaces with no loss of power.
The OD Sat 5 loudspeaker can be fixed to the wall using the brackets supplied, or anchored in the ground for the ideal system in an outdoor environment. Available in Light or Dark finish, it is as discreet as it is stylish.
For a complete system offering ever better performance, the looks and sound of OD Sat 5 pair perfectly with the OD Sub 12 subwoofer, as well as OD Stone 8.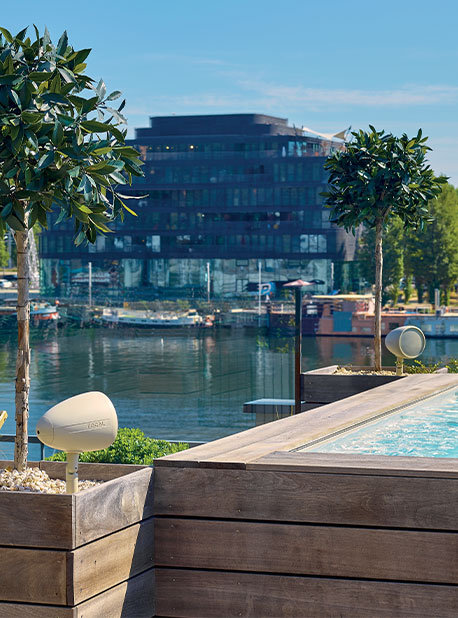 Resistant to water and all weathers
IP55 CERTIFICATION
The OD Sat 5 loudspeaker is IP55 certified. IP, or Ingress Protection, is a standard from the International Electrotechnical Commission relating to a product's degree of water resistance and protection against the ingress of solids and dust.
A complete system
CHOICE OF SYSTEM
The three outdoor products from the Littora 200 line – OD Stone 8, OD Sat 5 and OD Sub 12 – have been designed and developed by the Focal engineers to offer the same high-end sound and harmonious aesthetic, whether used together or separately. Build the system of your choice and enjoy pure outdoor sound!