What is it?
NETIO PowerBOX 3Px is a professional electrical socket device with 3 outputs and LAN connectivity. Each output socket can be separately switched on or off over the web interface. Integration into third-party systems using various protocols (JSON, Modbus/TCP, SNMP, MQTT-flex, Telnet, …) is easy thanks to the open API. With the NETIO Cloud service, the outputs can be controlled from anywhere. The NETIO Cloud service, provided for a fee, uses SSL security and servers in Europe.
NETIO PowerBOX 3Px can be configured with a web browser (allows output control, connection to NETIO Cloud, Open API communication settings, etc.).
PowerBOX 3Px is a smart IoT LAN power socket in the form of an extension cable. A RJ45 Ethernet cable is used to connect to the LAN.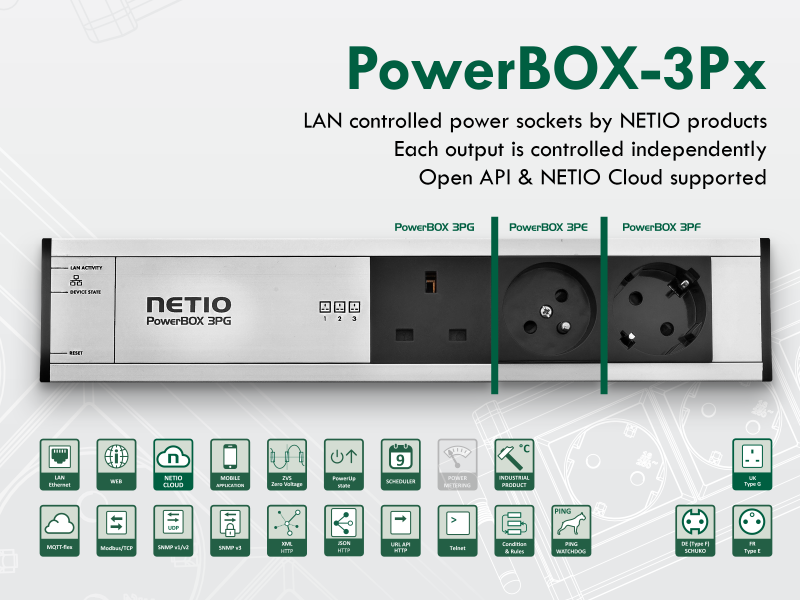 PROFESSIONAL PRODUCT
NETIO PowerBOX 3Px is suitable for industrial applications. The product works in a wide temperature range (–20°C to +65°C), supports firmware upgrades over the web, remembers the last socket states before being powered off, and its relays switch at zero voltage.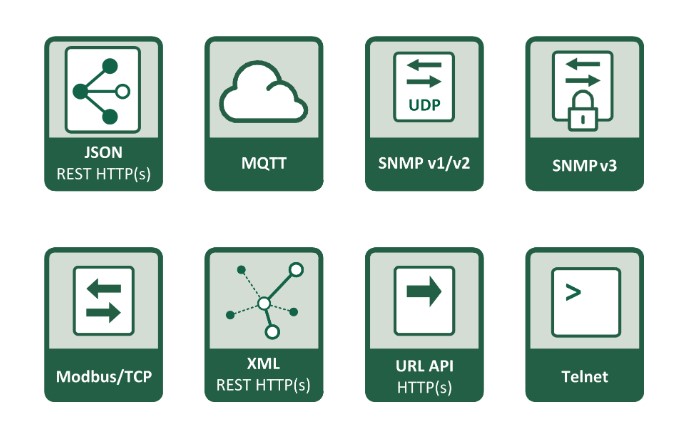 OPEN API: SUPPORTED M2M PROTOCOLS
The open API can use one protocol at a time, chosen from among the supported M2M protocols:
Modbus/TCP AN27, AN22, AN37
MQTT-flex AN40
Telnet AN10
http URL API AN19, AN29
JSON over HTTP (default) AN21, AN30, AN42
http Push JSON
http Push XML
XML over HTTP AN20, AN31
SNMP v1 AN11, AN41
SNMP v3
The SNMP protocol can be always used in parallel to other APIs.
Regardless of the Open API used, the PowerBOX 3Px can be always controlled from its web interface and from the NETIO Cloud service. The customer may use one Open API protocol and the NETIO Cloud service simultaneously.
TYPICAL APPLICATIONS
Each electrical socket can be separately switched on or off from the product's web interface.
In addition to the other methods of control, each output can be controlled remotely with NETIO Cloud. For each output, NETIO Cloud displays the current consumption in kWh.
The outputs can be metered and controlled with the Open API (JSON, Modbus/TCP, SNMP, MQTT-flex, Telnet, , ..)
The NETIO power sockets device can work with various third-party programs and applications (Integration partners & NETIO Drivers).
The power sockets can be controlled using the NETIO Mobile 2 (Android) as long as the app is connected to the same network, or with NETIO Cloud.
Measurements of electrical parameters can be monitored in the web interface or with the Open APII.
ELECTRICAL MEASUREMENTS
NETIO PowerBOX 4Kx measures electrical parameters separately for each output. Measured values are displayed in the web administration interface and at the same time are accessible via Open API protocols. NETIO PowerBOX 4Kx measures with an accuracy better than 1%.
4x Current [A]
4x Output power [W]
4x Energy [Wh]
4x TPF (True Power Factor)
4x Phase [°]
4x Reverse Energy [Wh]
Voltage [V]
Grid frequency [Hz]
NETIO Cloud
The PowerBOX 4Kx smart power strip can be connected to NETIO Cloud. Control a hundred outputs from a single web screen! NETIO Cloud is an ideal solution for remote control and restarting. The NETIO Cloud service is provided for a fee and supports NETIO products.
All devices produced by the NETIO products company can be connected to NETIO Cloud.
Thanks to the included "Welcome credit", the service can be used at no cost for the first 3 years.
Devices connected to the service can be controlled securely from anywhere over the Web (HTTPs).
NETIO Cloud can be used in parallel with another Open API protocol.
Communication with the Cloud service is secured (port 8883 – MQTTs – TLS).
NETIO Cloud uses a separate Open API (MQTTS protocol) to control all devices linked to a given user account).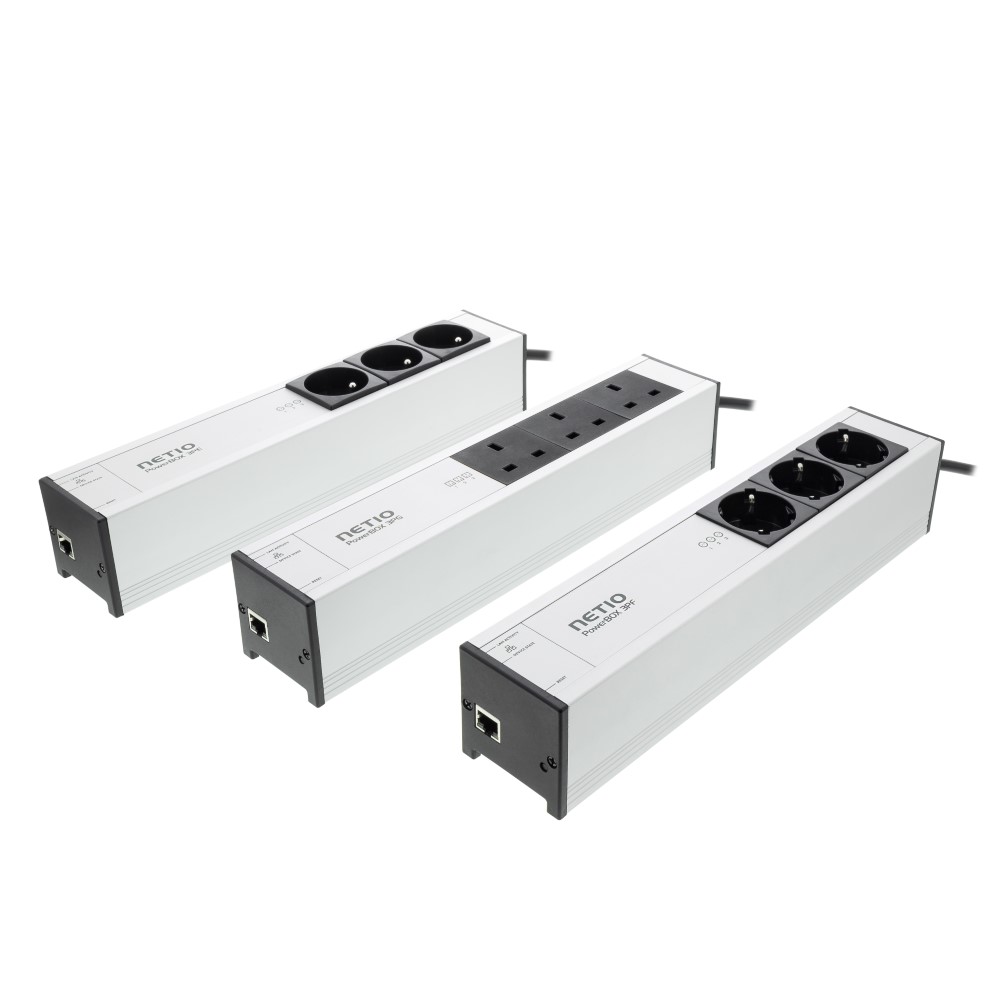 INDUSTRIAL PRODUCT QUALITY
NETIO sockets are made with quality in mind. Each unit includes a set of supporting functions to ensure reliability and long service life of the product in real-life conditions.
Open M2M API
Wide operating temperature range (–20°C to +65°C)
PowerUp state – defined output state after power-up
PowerUp delay (outputs switched on after a delay)
Firmware upgradeable over the web, backwards compatibility
IOC – Independent Output Control
ZVS – Zero Voltage Switching
ZCS (ZERO CURRENT SWITCHING)
n important feature of the NETIO PowerBOX is ZVS (Zero Voltage Switching).
ZVS controls the exact time when the mechanical relay contacts close and open. The relay contacts switch the output on or off when the voltage crosses the zero level.
In the long term, ZVS support reduces the product failure rate due to internal relay damage.
Since the relay switches when the sinusoidal voltage waveform crosses the zero level, negative effects of inrush current are significantly reduced.
The ZVS and PowerUp delay functions reduce the chance of circuit breakers tripping when power is restored after an outage.
ZVS extends the lifetime of connected equipment, especially in case of frequent on/off switching of devices that are not designed for that (such as switching power supplies).
POWERUP STATE
For some applications, it is important to set the correct state of a power output immediately after power is turned on (or restored). The "PowerUp state" parameter defines the behavior of the 110/230V outlets just after power is restored, before the standard communication with the master system is established.
• On
• Off
• LAST state restores the last state before the power was disconnected
PowerUp sequence (delay)
The PowerUp sequence function (delay) ensures that the 230V power output is switched on with a configurable delay (several seconds) after the power is restored. This can avoid circuit breaker tripping when power is restored after an outage.
The idea is to switch the outputs on one by one with a delay of a few seconds in between in order to avoid tripping the circuit breakers (see Inrush Current). We particularly recommend this function if there are two UPS or several LED lights in parallel in the same circuit.
MOBILE APP: NETIO MOBILE2
This device can controlled from mobile App NETIO Mobile 2 (Android & iOS).
LAN: NETIO Mobile 2 can control all outputs of devices within local LAN (WiFi).
Cloud: User account on the NETIO Cloud service can be connected to the mobile app.

You can do with mobile app

Control individual power outputs – switch ON, switch OFF, RESET
Read power consumption data (A, W, Wh), if this one output (device) supports energy metering
QR code for NETIO Mobile 2 AndroidQR code for NETIO Mobile 2 iOSActivate / deactivate the week Scheduler function per each output
Sorting of outputs within groups (by function or location)
Output grouping – default group per one device can be changed individualy
Group control – Switch the whole group of outputs On / Off
Group control – Activate / deactivate the week Scheduler function for each output in whole group
Change output / device name (visible in the mobile application only)
Add multiple devices to the mobile app.
LAN discover: Search your LAN/Wifi network for NETIO devices.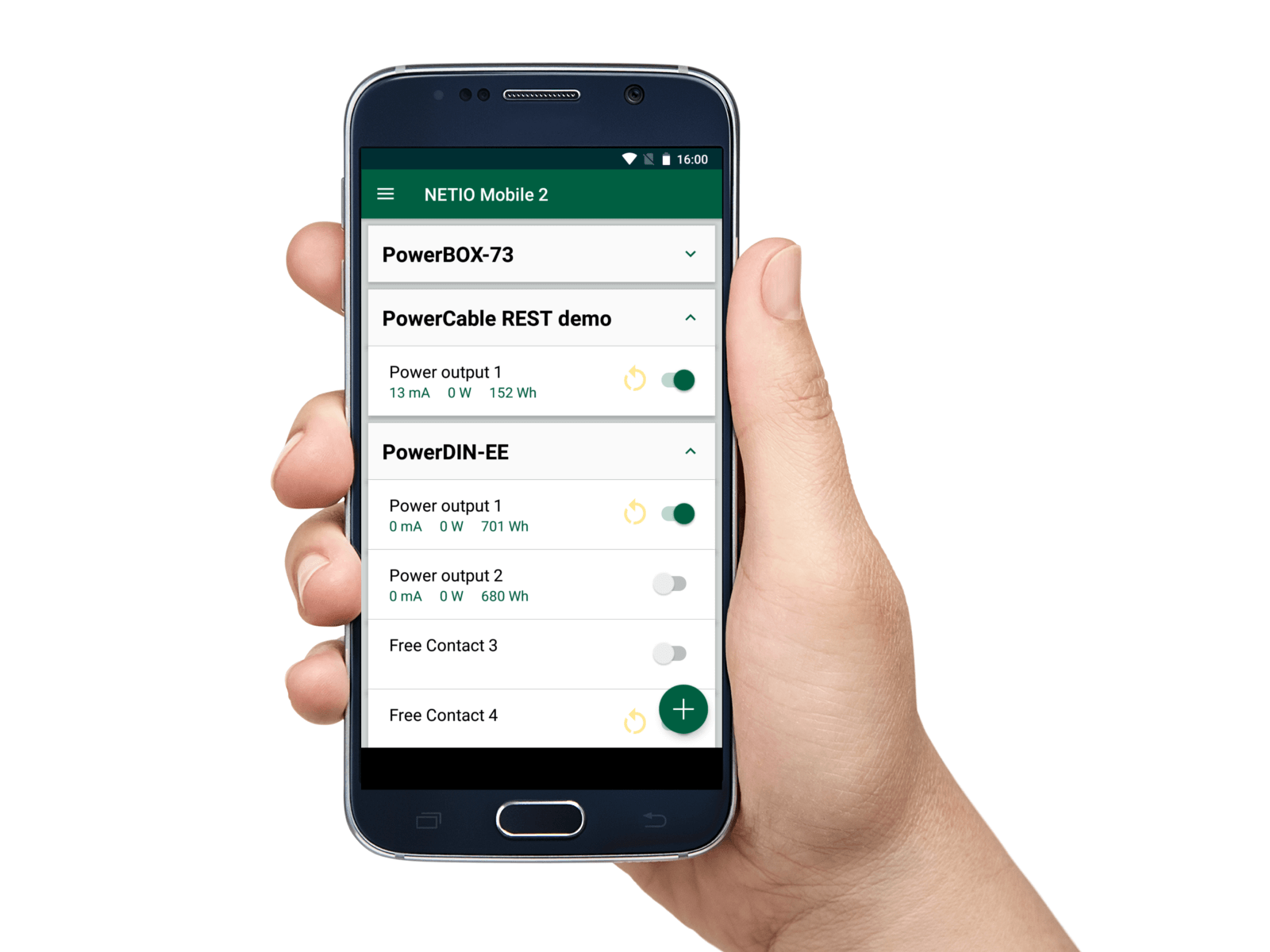 SCHEDULER (TIMED SWITCHING OF INDIVIDUAL OUTLETS)
The switching of outlets can be time-controlled by the Scheduler with a graphical interface. Switching on/off at specific times can be easily configured.
• Each output can have its own schedule, according which the output is switched
• While Scheduler (calendar) is running, the output can be controlled from NETIO Cloud, web interface or Open API
• The Scheduler does not require an internet connection (requires a time source – NTP server – for example a local ADSL / WiFi router)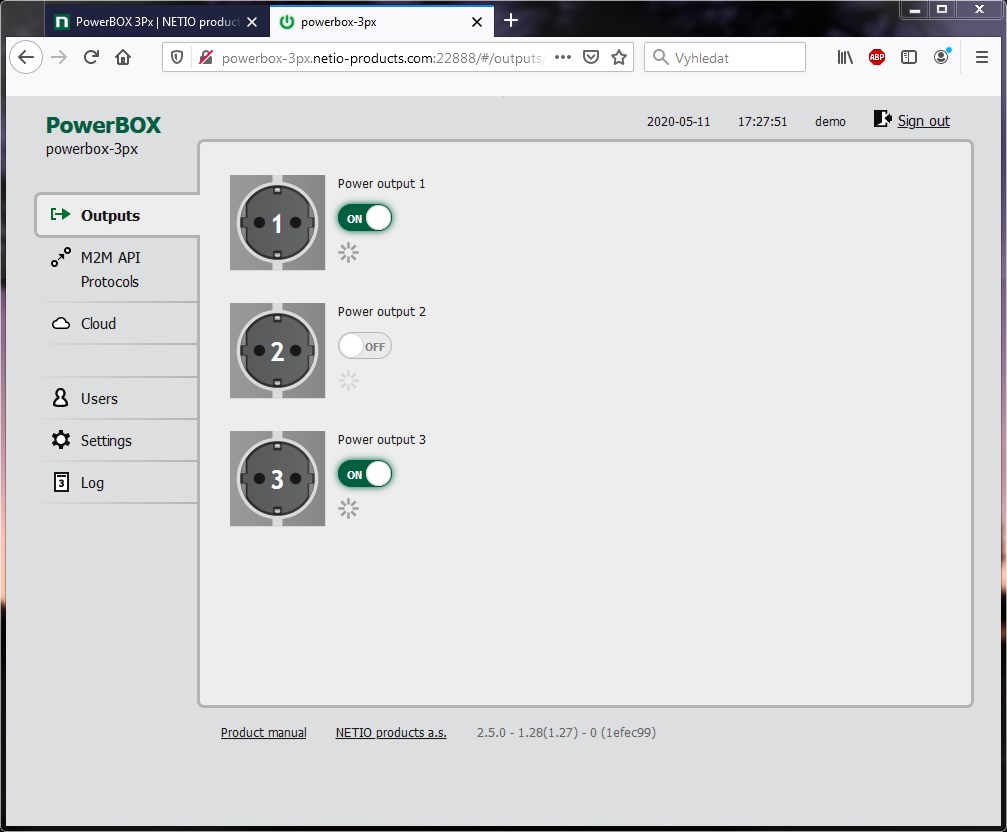 GENERAL PROPERTIES
Power
• 110/230V power input
• 3x IEC-320 C13 output
• Individual metering at each output
• Zero current switching (ZCS) at each output
• Push-button control of each output
• Defined power-up output state
Open API interface
• WEB interface for configuring the product, HTTPs capable
• Fully-documented M2M API (10 protocols)
• Online demo for testing
Product Comparison