Immersive Sound Receiver
Based on the award-winning ISP Elite MK3 platform, the Immersive Sound Receiver Fusion 20 is a 20-channels processor integrating 16 channels of the latest Edge amplification technology from Danish based ICE Power, exhibiting extremely low noise and distortion levels with 150W (8ohm) per channel, and up to 500W (8ohm) when bridged.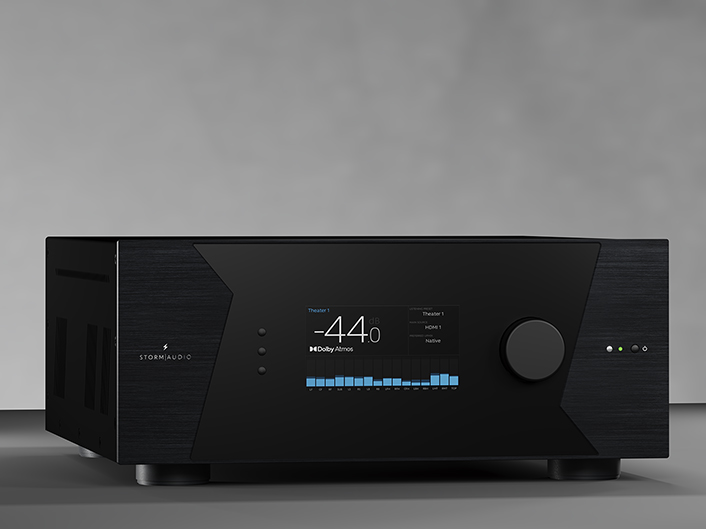 This unique receiver in the market has the DSP power to decode all the latest immersive formats (Auro-3D, Dolby Atmos, DTS:X Pro, and IMAX Enhanced), and enable post-processing to optimize any speaker to any room straight out of the box. It includes the highest precision implementation of Dirac Live Active Room Treatment for easy and accurate room calibration, supports additionally up to 20 PEQs per channel and can drive up to four-way active crossovers and any number of subwoofers.
Based on the ISP Elite MK3 design, it delivers the same audio performance thanks to StormAudio proprietary analog/digital hybrid volume adjustment that maximizes the dynamic range for a more accurate, detailed, and dynamic reproduction of your movie soundtrack or your music playlists, perfectly rendered by the ICE Power amplification.
The ISR Fusion 20 has a fixed architecture, but the upgradeability of the HDMI board remains possible whenever new upgrades are released. It currently supports HDMI2.1a/HDCP2.3 up to 8K/4K120 with HDR10+, HLG and Dolby Vision as well as ARC/eARC.
This receiver can be easily controlled by a variety of tools, ranging from the included IR remote control to home automation systems or the Android/iOS app available on smartphones or tablets.
Our credo is to engineer high-performing products that are simple to use and easy to set up for the customer; the ISR Fusion 20 is no exception, it comes with StormAudio's intuitive User Interface and user-friendly Speaker Configurator.