WiFi Remote Control
Introducing the T4x remote control, the flagship of the award-winning wireless interface lineup from the RTI. Precision engineered with a large high-resolution capacitive touchscreen, the essential hard buttons, and a completely customizable interface, the user will enjoy simple, intuitive control and superb ergonomics. Perfectly suited for the smart home or office, the T4x sets the standard in wireless control with advanced features including grip sensors, WiFi, dual RF, and more.
Included in the box:
T4x, docking station, power supply (5V, 2A)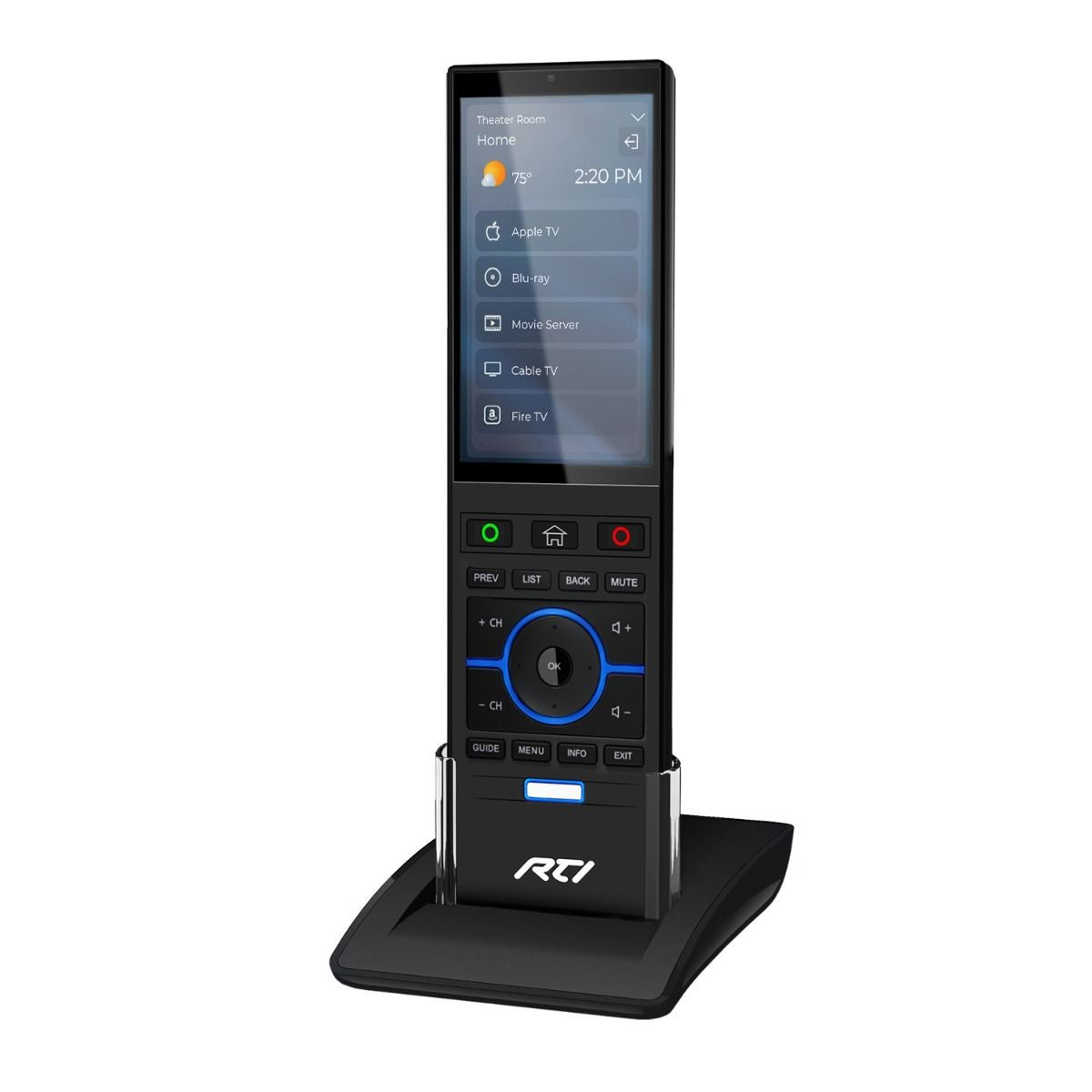 Key Features
Flush-mount, 4.0" high-resolution capacitive LCD touchscreen (480×800).
Thin, sleek design with superb ergonomics.
Two-way control using 2.4GHz (Zigbee®) and RTI control components.
Dual RF transmission capability uses 433MHz and 2.4GHz (utilizing Zigbee® technology).
Integrated 802.11b/g/n wireless Ethernet enables viewing MJPEG video, wireless program updates, enhanced two-way control and more.
Integrated grip sensors keep the remote awake while in use.*
Accelerometer provides "instant-on" control.*
Twenty assignable/programmable keypad buttons for commonly used functions.
Cursor button allows simple scrolling list navigation.
System includes a Lithium-Ion battery and docking station.
Transmits IR and RF (or both – on a single button press).
Extremely wide IR transmitting frequency range.
Completely customizable and programmable.
Non-volatile Flash memory stores your system configuration even when power is not present.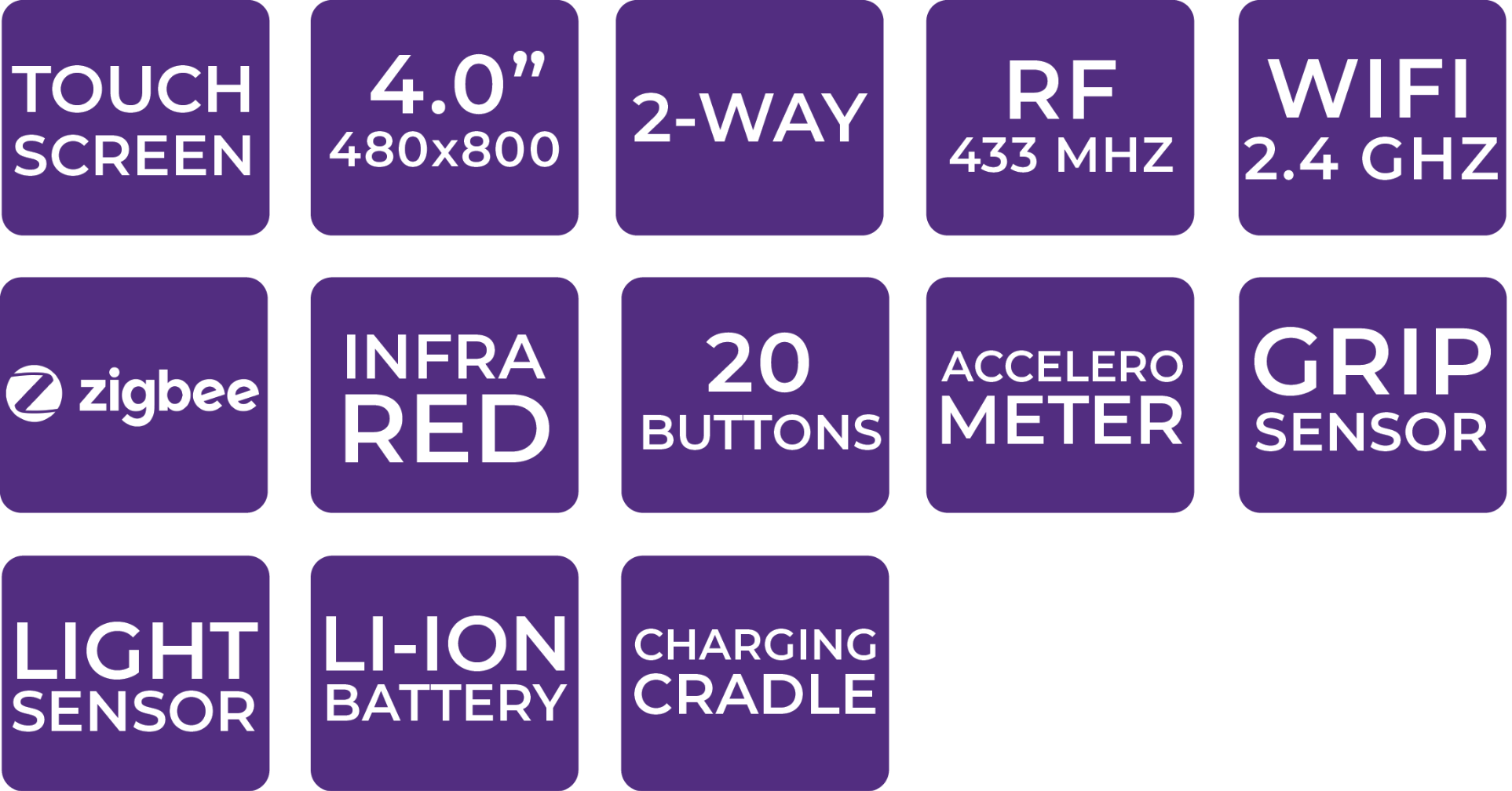 Touch Screen
The customizable graphical user interface allows for intuitive touch screen control.
2-Way
Get status feedback from controlled devices on your remote such as on/off or arm/disarm status, dimming value of lights, music playlists, available radio stations.
WiFi
Check the weather forecast, view video from network security cameras or perform remote programming updates through a standard 2.4 GHz WiFi 802.11b/g/n connection.
Zigbee
Standard wireless Zigbee IEEE802.15.4 connection for bidirectional control communication with RTI processors.
RF 433 MHz
Wireless unidirectional RF communication on the 433 MHz band for control communication with RTI processors.
Infrared
Control devices directly without a control processor.
Hard Buttons
20 Hard Buttons provide quick access to often used control functions such as lights, music, audio/video source selection without the need to navigate through the graphical interface on your touchpanel.
Accelerometer
Pick up your remote and the accelerometer automatically wakes the touchscreen.
Grip Sensor
The integrated grip sensors keep your remote awake while in use.
Ambient Light Sensor
Enjoy the perfect display brightness that's automatically set depending on the ambient light.
Lithium Ion Battery / Charging Cradle
Your remote can operate 5 to 7 days on average use. Charge it conveniently with the included charging cradle.