WiFi Remote Control
Defining engineering excellence – the remarkable T2x is the fifth generation of RTI's renowned T2 remote control platform. A full complement of hard buttons provide quick, intuitive control, while the 2.8″ touchscreen interface can be custom tailored for full control of devices throughout the environment. Now, RTI is taking this design platform to unprecedented levels with cutting edge features that leverage today's technologies, to provide a more satisfying and reliable control experience than ever before. Innovations include grip sensors to keep the remote awake during use, an accelerometer for instant-on control**, a flush-mount touchscreen allows improved gesture control, WiFi and more. The combination of the T2x and an RTI control system provides the power, the customization, and the advanced features needed to make controlling today's electronics a true pleasure.
*Feedback requires a compatible two-way RTI control processor.
*Integration Designer software only available to authorized RTI dealers.
Included in the box:
T2x, docking station, power supply (5V, 2A), interchangeable keycap kit (8 keycaps)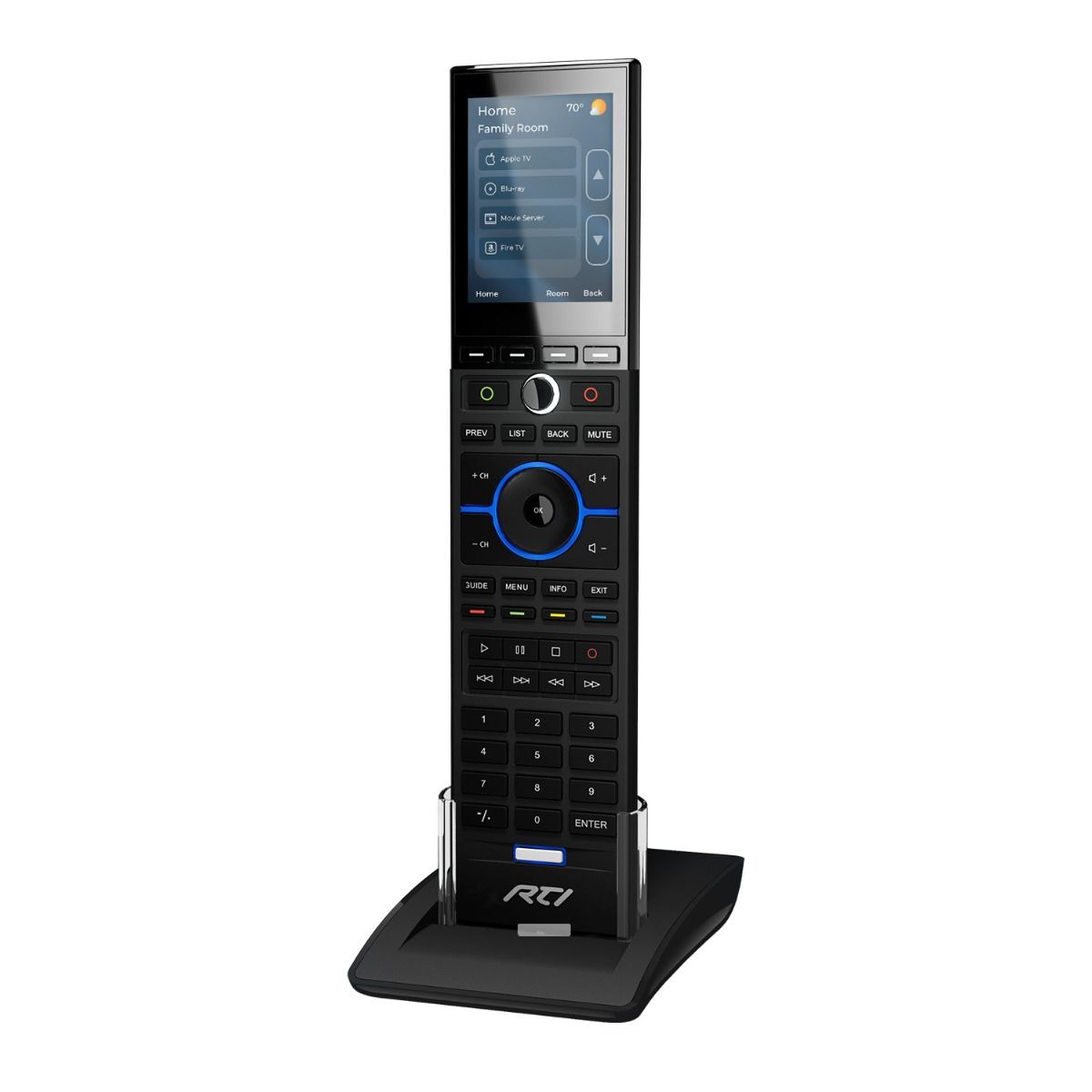 Key Features
Dual RF transmission capability uses 433MHz and 2.4GHz (utilizing Zigbee® technology).
Integrated 802.11b/g wireless Ethernet.
Two-way control using 2.4GHz (Zigbee®) and RTI control components.
Flush mount, edge-to-edge touchscreen for improved gesture support.
Integrated grip sensors keep the remote awake while in use.
Accelerometer provides "instant-on" control.
Three wireless modes built-in (RF, Zigbee and WiFi).
Transmits IR and RF (or both – on a single button press!).
Extremely wide IR transmitting frequency range.
Greatly improved power management and battery charging.
Can be remotely updated wirelessly from offsite (future support).
Thinner, sleeker and more ergonomic.
Forty-seven assignable/programmable keypad buttons.
Cursor button allows simple scrolling list navigation.
System includes a Lithium-Ion battery and docking station.
Completely customizable and programmable.
Non-volatile Flash memory stores your system configuration even when power is not present.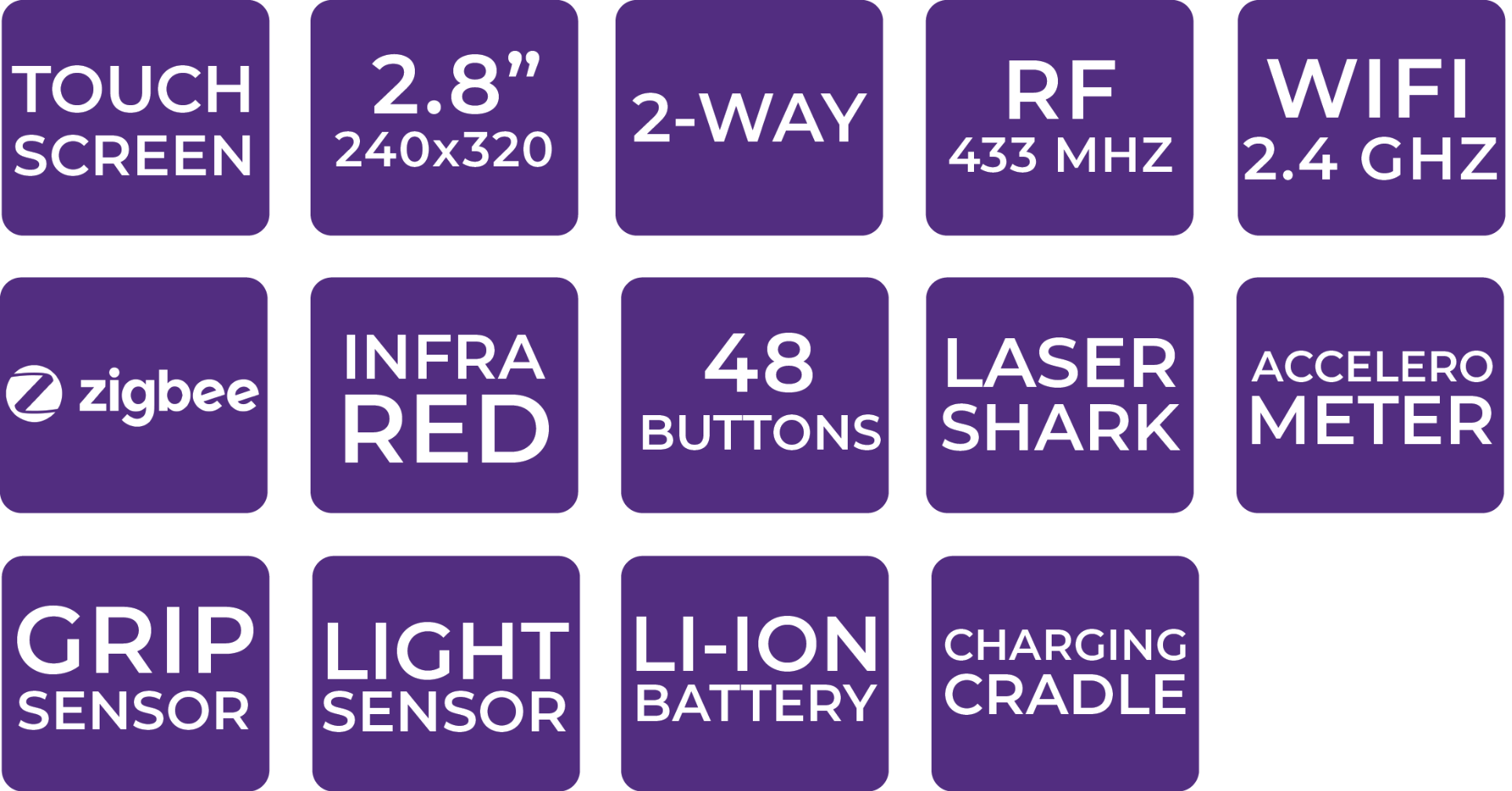 Touch Screen
The customizable graphical user interface allows for intuitive touch screen control.
2-Way
Get status feedback from controlled devices on your remote such as on/off or arm/disarm status, dimming value of lights, music playlists, available radio stations.
WiFi
Check the weather forecast, view video from network security cameras or perform remote programming updates through a standard 2.4 GHz WiFi 802.11b/g/n connection.
Zigbee
Standard wireless Zigbee IEEE802.15.4 connection for bidirectional control communication with RTI processors.
RF 433 MHz
Wireless unidirectional RF communication on the 433 MHz band for control communication with RTI processors.
Infrared
Control devices directly without a control processor.
Hard Buttons
48 Hard Buttons provide quick access to often used control functions such as lights, music, audio/video source selection without the need to navigate through the graphical interface on your touchpanel.
Laser Shark
Customize the button labels with text or graphics.
Accelerometer
Pick up your remote and the accelerometer automatically wakes the touchscreen.
Grip Sensor
The integrated grip sensors keep your remote awake while in use.
Ambient Light Sensor
Enjoy the perfect display brightness that's automatically set depending on the ambient light.
Lithium Ion Battery / Charging Cradle
Your remote can operate 5 to 7 days on average use. Charge it conveniently with the included charging cradle.