The Platinum series is the premium line of TAGA Harmony speakers.
The eye catching, stylish curved cabinets made of strong and thick MDF boards equipped with advanced drivers and high quality crossovers give crisp, clear, natural and dynamic sound performance.
The floorstanding models sit on a solid base with spikes that provides stability and good isolation of speakers from the floor.
Sound characteristics of the Platinum series
Spacious, clear and detailed high frequencies.
Rich, live-like, fast-responding and natural mid frequencies.
Superior sound balance.
Strong, low and very well defined bass performance.
CABINETS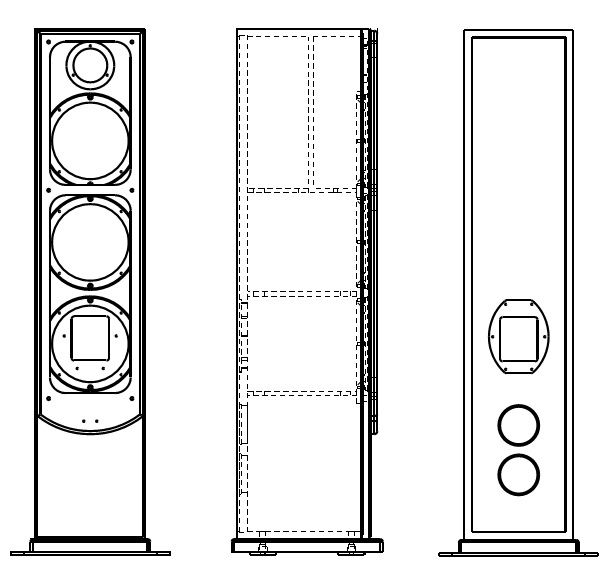 TLIE – Taga Low Interference Enclosures are made of high-quality thick PVC coated MDF boards (Front speaker: 15mm full cabinet with an extra 18mm thick matt black front panel. Center and Surrounds speakers: 12mm full cabinets with an extra 15mm thick matt black front panel) to increase stiffness and limit any unwanted resonances.
The front speaker has additional inside braces made of 9mm MDF boards.
The shapes are perfectly crafted not only to look wonderful and modern but mainly to lower any unwanted vibrations, diffractions or turbulences, which can affect the sound performance. Acoustical damping material used inside cabinets eliminates problem of internal standing waves and bass-reflex ports are uniquely designed to reduce distortions to minimum.
The floorstanding model sits on a solid MDF base with metal feet and spikes that provides stability and good isolation of speaker from the floor.