The MiniSub has always been at the heart of ISOL-8, providing class leading performance at an affordable price. Improving the MiniSub was a real challenge, thousands of satisfied MiniSub owners across the world proved that it was going to be a difficult act to follow.
Through careful development and adaptation we have managed to incorporate many of the innovative technologies found in the highly regarded flagship ISOL-8 SubStations, taking the all new MiniSub Wave and MiniSub Axis a substantial step forward whilst remaining outstanding value for money.
MiniSub Axis
The MiniSub Axis has exactly the same layout and filter complement as the MiniSub Wave but takes performance another step forward with the addition of Axis DC blocking. A significant DC component is commonly found on the mains power supply. It affects the crucial magnetic circuit of your equipment's AC power supplies, degrading system performance and causing acoustic noise through mechanical vibration. The MiniSub Axis ensures your system will be free of any of the negative effects of DC on the mains.
We take pride in continuing to bring our outstanding build quality to the new MiniSubs, making them an investment that provides unbeatable performance and will last a lifetime. Inside the quality casework you will find the same carefully auditioned polypropylene capacitors, Mundorf OFC inductors, high grade connectors, and custom ISOL-8 chokes that are found in our high end audiophile products. You will also have the peace of mind that comes with our spike and surge protection. All ISOL-8 products are designed and manufactured in the UK and come with a five year guarantee in the UK.
The result of an extensive development program, the next generation of the MiniSub takes its class leading performance to a whole new level in every area, helping your system to fulfil its maximum potential every time you listen.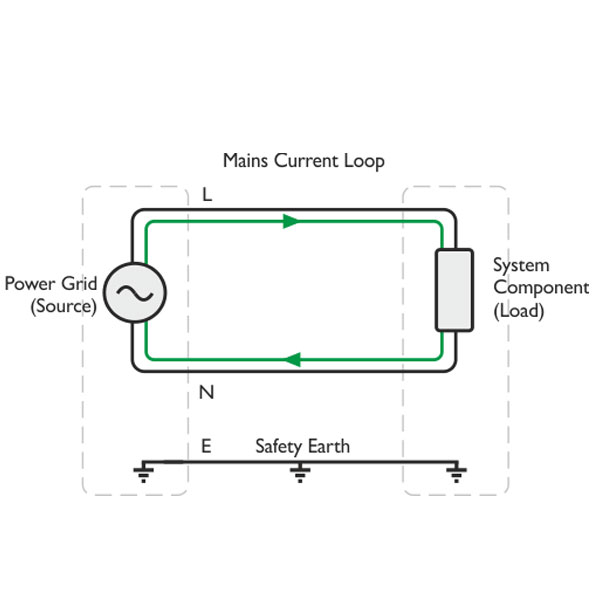 Noise can enter any current loop in a number of ways, but can be largely categorised into two types or modes.
Firstly we'll look at Differential Mode Noise. This occurs when only one conductor of a current loop encounters a noise source. The noise therefore circulates within the loop. For example this occurs when conductors are not closely coupled; such as in equipment internal wiring or when the noise is generated from circuit elements within the load or source itself.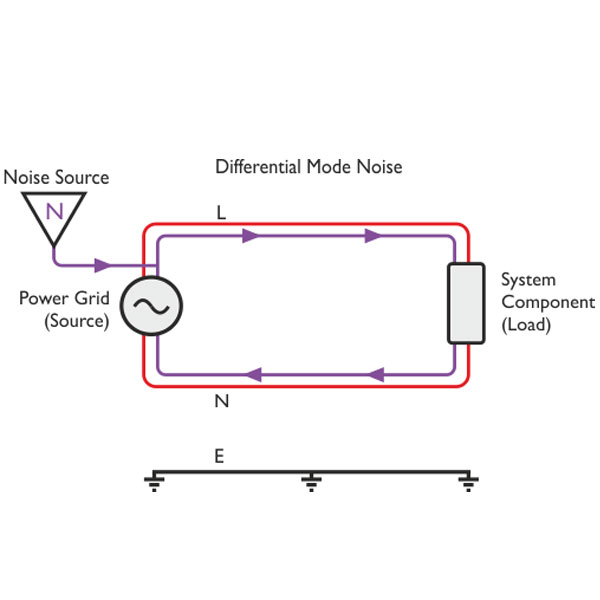 Secondly we'll look at Common Mode Noise. This occurs in both conductors of a current loop; equally and in phase with respect to ground. An instance being closely coupled live and neutral conductors encountering an electromagnetic field that immerses both conductors equally. For example; a cable picking up transmitted radio energy, from broadcast or wi-fi transmitters for example. The noise has its own current loop and returns through the safety earth conductor via the stray capacitance present in all distributed electrical systems.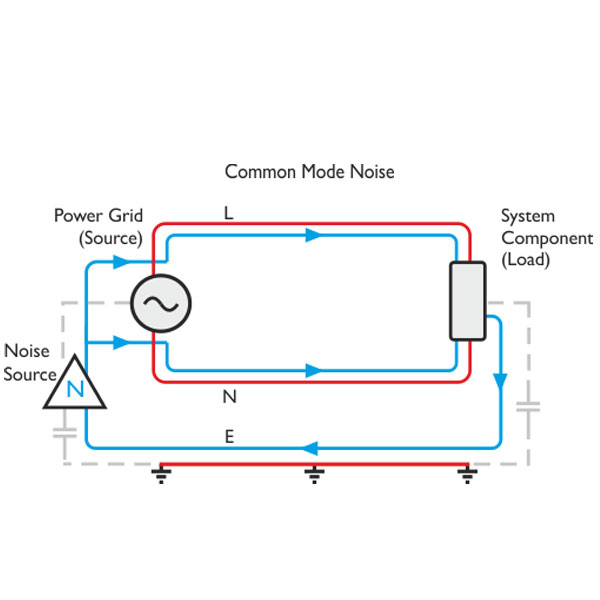 Both these types of noise are commonly found in the real world. Now let's look at how to reduce the unwanted noise entering the load. With Common Mode Noise a filter can be readily designed to attenuate the energy down to a given frequency using a common mode inductor. This uses phase cancellation to attenuate unwanted noise. The physical geometry of the inductor produces a relatively large value of inductance, given the core size and number of wire turns. It therefore produces effective filtering but for common noise only. Differential mode noise is able to pass through the filter readily.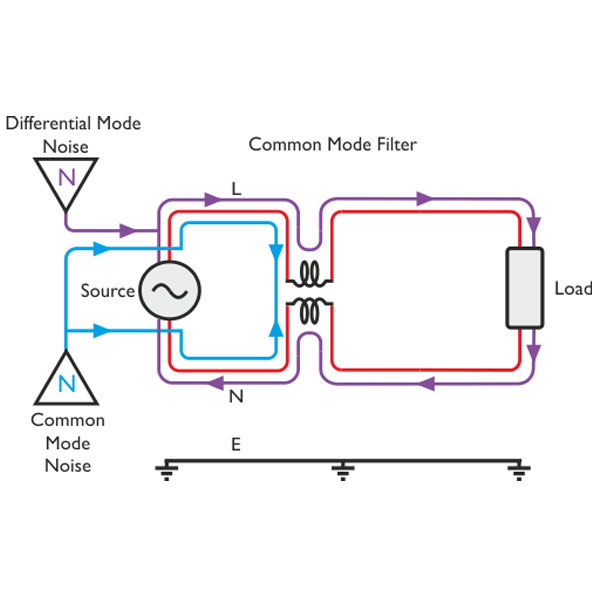 A different topology is needed to attenuate Differential Mode noise. In this case only separate series inductors in the send (live) and return (neutral) in combination with a shunt capacitor in the current loop can attenuate the noise. Unfortunately the favourable geometry of the common mode inductor is not effective in this case. The series inductors used in the filter must use larger cores and more turns of wire to provide effective attenuation for differential mode noise compared with common mode.
Inferior mains conditioners may claim they filter differential mode noise but in fact use shunt elements without series inductors to divert the noise to earth (known as a Delta configuration). This then pollutes the earth instead, not the optimum solution for sensitive audio equipment as noise is still present on the earth line.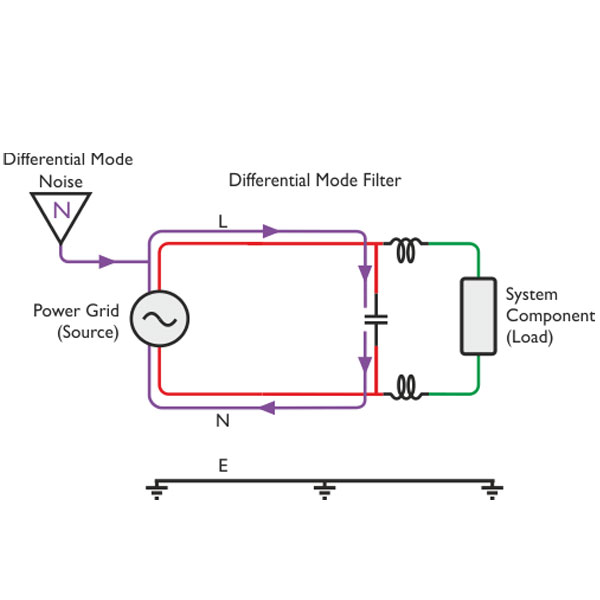 ISOL-8 Transmodal Filter: Warning! All mains conditioning is not created equal. Most manufacturers of mains conditioning equipment completely fail to effectively filter differential mode noise as it adds both complexity and cost. ISOL-8 Transmodal filters combat both common and differential modes of transmitted noise whilst keeping the earth clean for maximum filter performance at all times.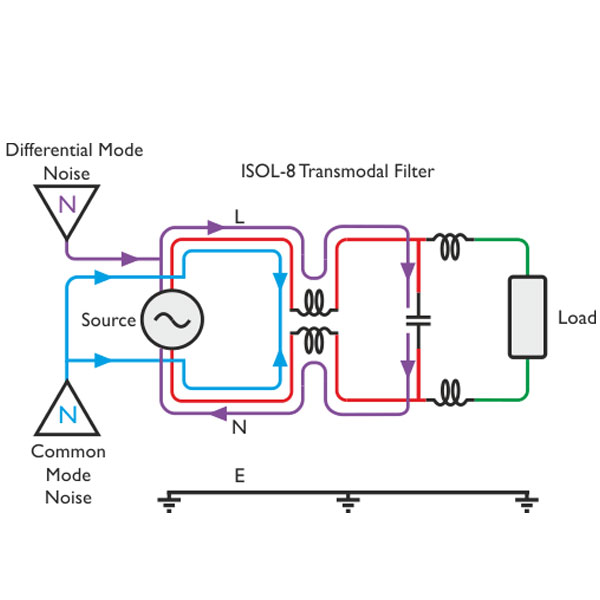 Cross Contamination Explained

The problem of noise cross contamination through power supply is often overlooked. Reducing its effect can result in significant performance gains for any system.
The key point is to understand is that each system component is not blameless and generates significant mains noise itself. In terms of power supply, it is also usually in close proximity to other components in the system, compounding the problem.
If you have system that contains a single component, one filter will protect it from mains borne noise: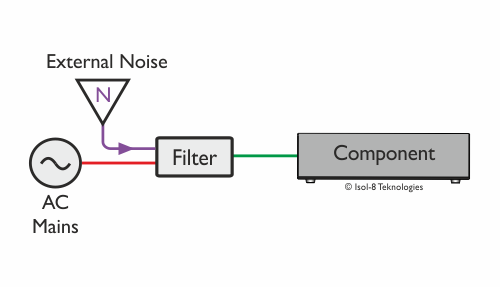 Despite the presence of the filter, adding other components still allows noise to circulate in the system. Any noise generated within the system passes from one system component to another as they are all connected to each other in parallel after the filter. The presence of the filter will have an effect on this transmission, but it is far from the optimum solution.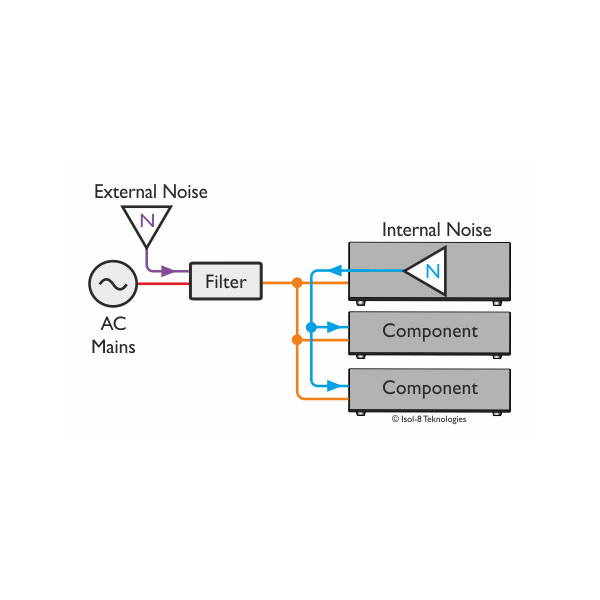 A multiple filter configuration, as pioneered by ISOL-8's designer Nic Poulson, is the optimum solution. External noise is blocked as before. But significantly, each component is also prevented from influencing the performance of another, releasing maximum performance.