Z-N875 – 1-DIN Infotainment system with 9"/22.9 cm Display, DAB+, Apple CarPlay and Android AutoTM
The ZENEC Z-N875 is a top-class infotainer for vehicles with 1-DIN mounting slot provision. The elegant frameless display panel features tilt angle and relative height adjustment for best position alignment in the vehicle cockpit. The capacitive, touch-sensitive 9"/22.9 cm TFT display 1024 x 600 p) with real glass surface provides for high-contrast, sharp and brilliant images.
The Z-N875 is Apple CarPlay and Google Android AutoTM certified. The systems for the connectivity of smartphones and infotainment systems developed by Apple and Google offer maximum safety while driving and enable convenient use of the installed apps. Docking the smartphone to the infotainer via the USB-A 2.0 port, the graphics of the apps are scaled to the device screen.
Depending on your preference, you can use the touchscreen, steering wheel remote control or voice control via Apple Siri or the Google voice assistant for operation. Route planning, making phone calls, sending and receiving messages or listening to music are child's play. If you have a subscription for current streaming services such as Apple Music, Spotify or Amazon Music on your smartphone, you can also use this subscription on the Z-N875.
The route guidance via the Google or Apple map apps, which are natively integrated on the smartphone, is very convenient. If this is not enough, you can use your favorite offline navigation app on your smartphone, if it is approved by Apple / Google for CarPlay or Android Auto. Apple CarPlay and Android Auto are constantly being further developed and functionally expanded by Apple and Google.
The Z-N875 naturally masters classic radio functions. The Z-N875 not only has a powerful and easy-to-use FM RDS tuner, but also a cutting-edge DAB+ twin tuner. This twin tuner covers the complete range of programs of the digital radio standard, including important and popular comfort functions such as dynamic station list ("background Scan"), MOT slideshow, DLS text and DAB<>FM/DAB <> DAB seamless service following.
The 4.2 Bluetooth module offers hands-free functions in high audio quality and impresses with its modern phone book management, contact search function and optimized, simple operation. The music collection on the smartphone can be played back wirelessly via the infotainer with A2DP music streaming.
The Z-N875 controls up to three rear-view cameras. The favorite button can be assigned the CAM function so that the connected camera(s) can be operated directly. The parking aid lines that can be faded in and can be adjusted to the respective camera systems are of great practical use for easier distance estimation.
The device also lives up to its high standards when it comes to audio functions. In expert mode, the DSP chip enables the front / rear and subwoofer outputs to be adjusted and coordinated with configurable high and low pass filters. The 5-channel time alignment, which can be set individually for each channel, allows the stereo image to be optimized for the driver or front passenger seat. The delay can be set as a distance in cm or as sound travel time in mS. The graphic 10-band equalizer adjusts the frequency response in the vehicle to personal preferences.
The Z-N875 supports the playback of the latest audio and video formats from USB memory devices via its USB-A 2.0 ports. The charging function of the USB-A ports recharges Android and Apple smartphones with 1500 mA charging current.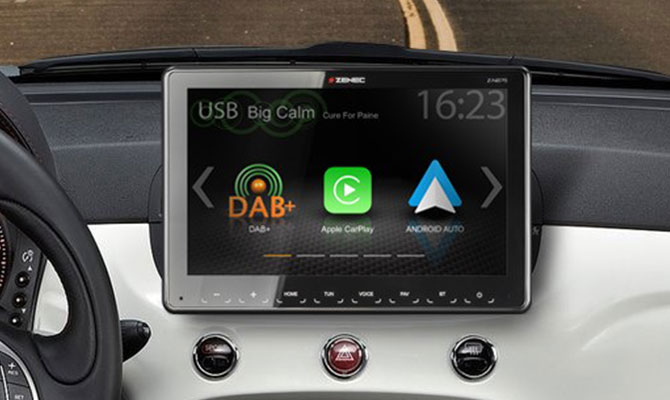 The ZENEC Z-N875 is designed and optimally suited for vehicles with 1-DIN mounting slot provision. It provides a programmable SWC interface or IR-in, to connect an external CAN/SWC interface.
The Z-N875 features an display adjustment mechanism, which provides adjustability of the display tilt angle (+5° to -20°) and display height (+40 mm to -20 mm) to achieve an optimum display position in every vehicle cockpit.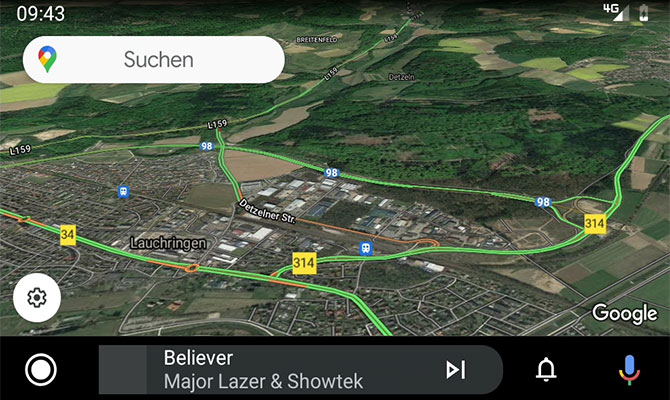 The Z-N875 is Google Android Auto certified. With GAA you are able to access compatible apps and online services of your Android smartphone in your vehicle and operate them intuitively with the display of the ZENEC device or Google's voice assistant.
Apple CarPlay is a perfect co-pilot. With CarPlay, you can use your iPhone more safely and smarter while you are driving. You can navigate, make phone calls, send and receive messages and play your favorite music. CarPlay is operated via touchscreen or Siri voice control.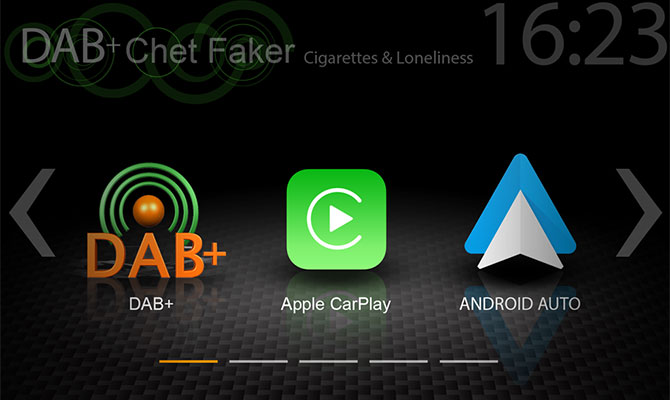 The capacitive 22.9 cm/9" LCD TFT touchscreen with glass panel gives you accurate control with just a light touch. The TFT LCD screen is convincing for its high brightness level and excellent contrast range for brilliant video playback.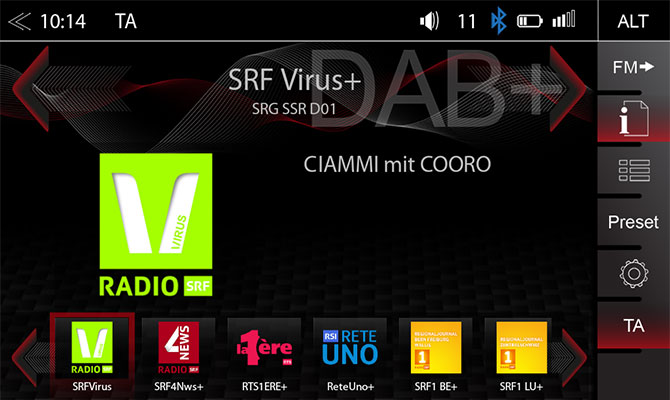 The integrated, highly-sensitive DAB+ twin tuner features various comfort functions like MOT slideshow, DLS text, DAB<>FM/DAB<>DAB seamless service following and dynamic station list. Aside of the easy tuner operation, a stable and clear digital radio reception is guaranteed.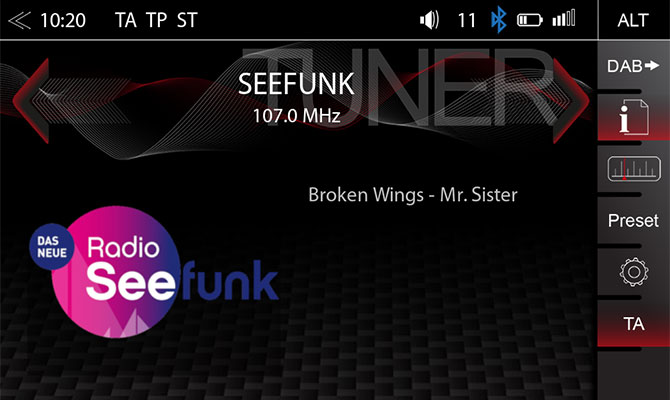 The radio receiver of the Z-N875 has an FM RDS tuner with integrated DSP that ensures a better, clearer sound quality when FM station signals are rather weak, thanks to interference noise masking. The radio stations can be stored in 18 station presets.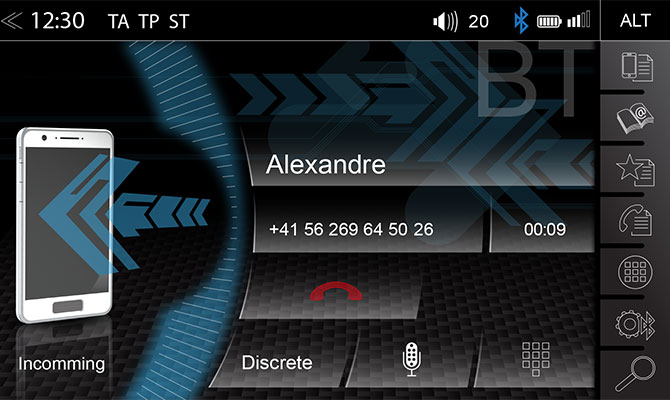 Hands-free calling with phone book synchronization and search function for entries by first name and surname. The easy to edit favorites menu with speed dialing is optimized for driving comfort, and offers echo canceling and other DSP filters for best speech intelligibility.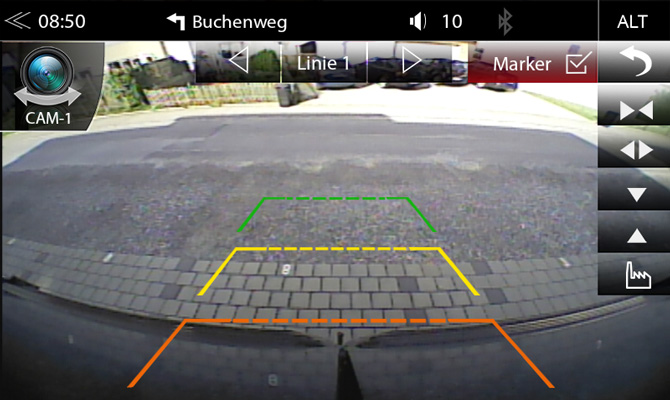 TThe Z-N875 allows the connection of three camera systems. Cam1 is activated by engaging reverse gear, including the audio playback of a CAM microphone (if available). The cameras can be controlled via the touchscreen and the FAV button. Additional grid lines that can be faded in help with the distance estimation.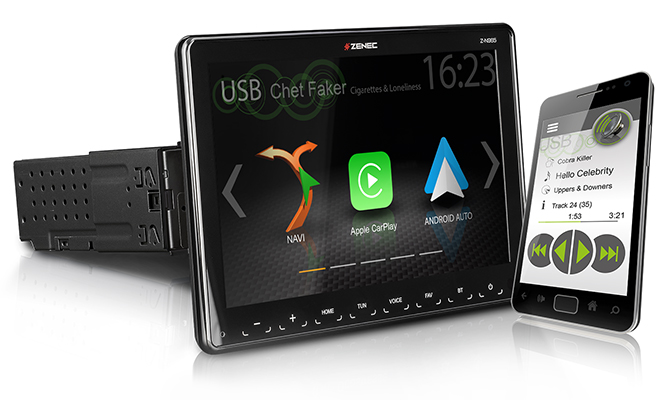 Using the smartphone ZENEC SP-REM app for Android and iOS smartphones, you can conveniently control the audio playback functions of the Z-N875 directly from your smartphone. The app remote displays audio meta­data such as track info, station names and VOL level.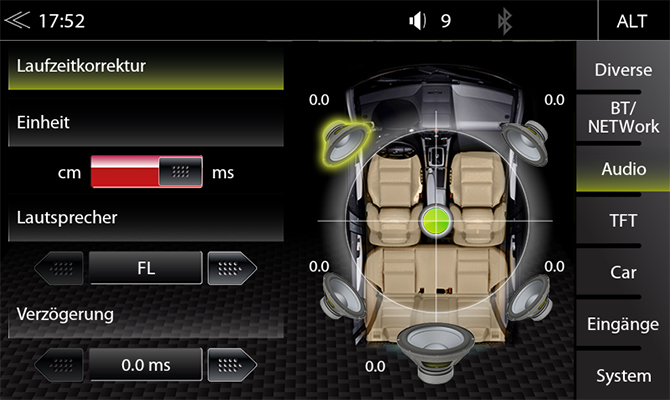 The Z-N875 has a 4.2 channel time alignment function with individually adjustable channels, to optimize the spatial image for the driver's or passenger's seat. The distance to the respective loudspeakers can be set as a distance in cm or as sound travel time in milliseconds.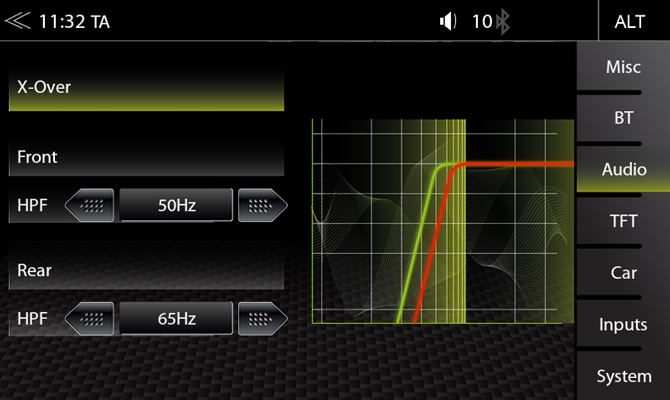 For the connection of external power amplifiers via RCA line-outs, and for the front and rear speakers driven by the device internal amp: A switchable active high pass filter with 12 dB/oct. (OFF/50 Hz/65 Hz/80 Hz/100 Hz/125 Hz/ 160 Hz) provides for a clean transition to the subwoofer or removes bass frequencies from the main speakers.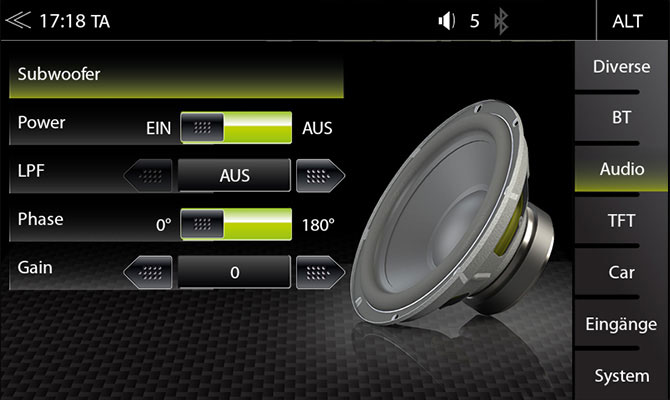 Passive subwoofers driven by a power amp or active sub­woofers can be integrated into a system concept, using the Subwoofer setup menu. A low pass filter with 12 dB/oct. acts on the subwoofer RCA line-out (OFF, 65 Hz, 80 Hz, 100 Hz, 125 Hz, 160 Hz), adjustable gain from -6 dB to +6 dB and switchable phase (0°/180°) round-out the adjustment options.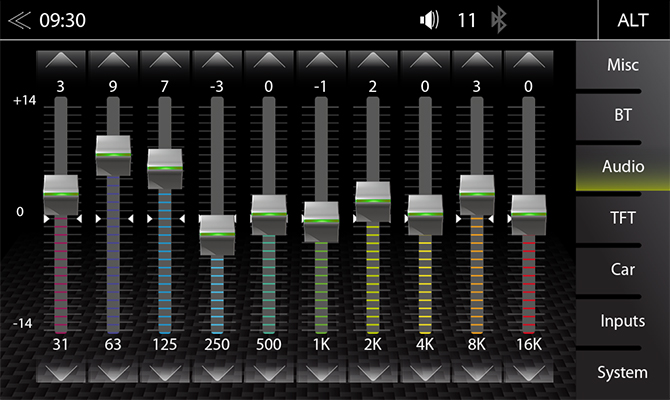 With the 10-band graphic equalizer you can manually tune the sound exactly to the characteristics of your vehicle or to your personal preferences. You can also select a pre­defined EQ profile from a list of available options in order to quickly adapt the sound reproduction in the vehicle.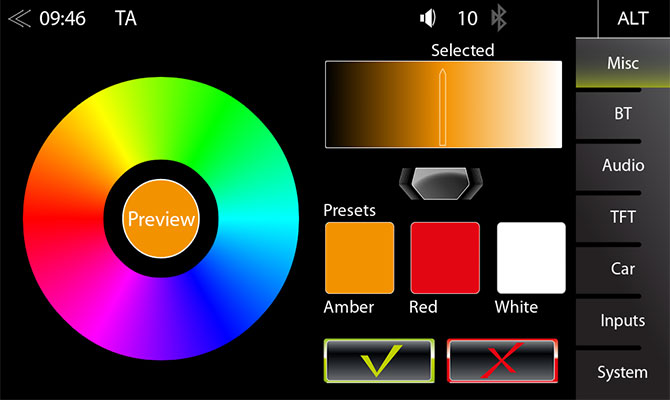 The large sensor-fields enable accurate operation while driving. The lighting color of the sensor-fields can be variably adjusted so that the Z-N875 integrates perfectly into the cockpit ambience of almost any vehicle.