X-127 · 1 DIN INFOTAINER
Modern infotainment for your vehicle: The XZENT X-127 integrates perfectly into the dashboard of vehicles with a 1-DIN installation slot and offers the latest infotainment functions. That the X-127 device is a really comfortable device to use, is easily visible by the clean front panel layout, combining a large 9"/22.9 cm touchscreen of real glass with four hard keys, and a practical volume control knob. For optimum cockpit integration, the X-127 display mechanism offers vertical screen position and horizontal and vertical tilt angle adjustments. The X-127 provides for an easy and totally safe smartphone use in the car. The USB port on the device lets you dock your phone directly to the infotainer – the X-127 is Apple CarPlay and Google Android AutoTM certified.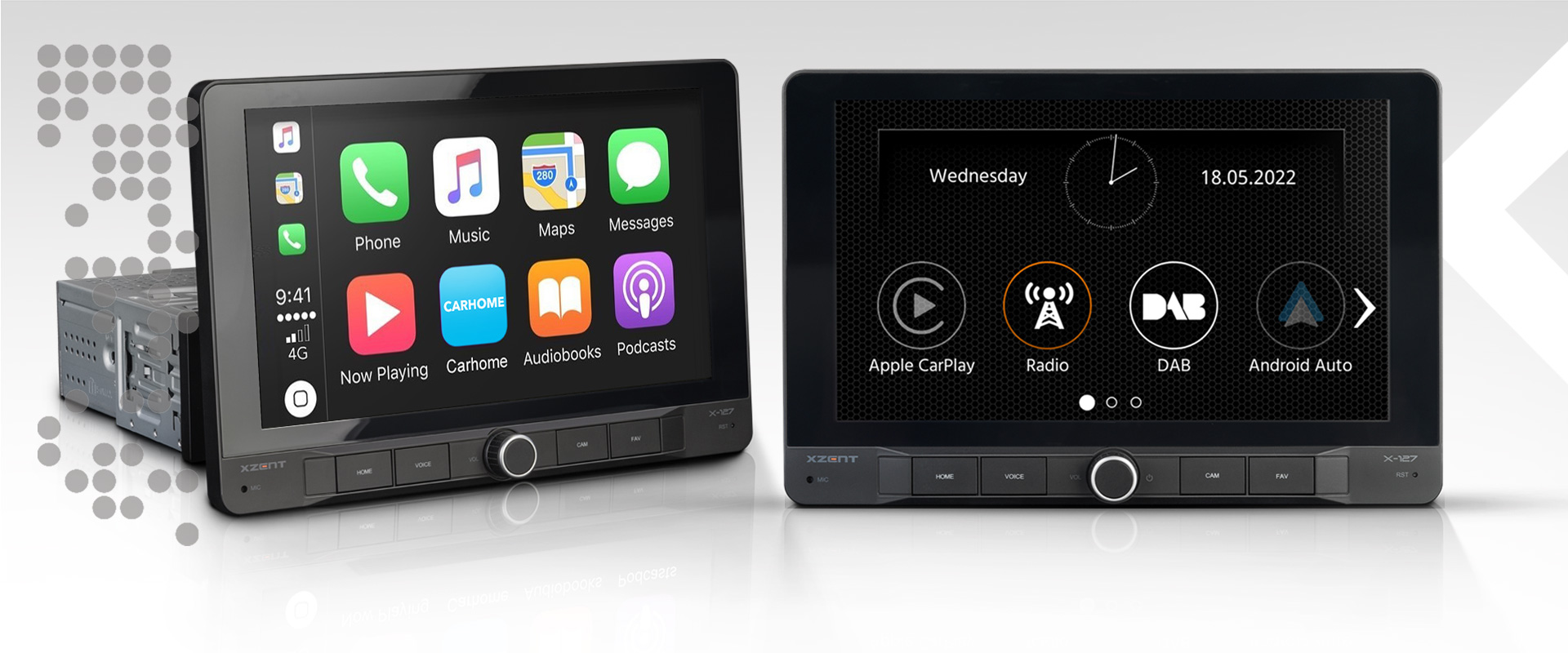 Universal infotainer
The XZENT X-127 is designed for vehicles with 1-DIN mounting slot provision. The 9-inch display panel will fit in most vehicle cockpits of European car brands, avoiding overlap with safety relevant control elements etc. The multi­color sensor-field illumination provides color match with nearly every cockpit.
Large capacitive touchscreen
The X-127 comes with a large capacitive 9"/22.9 cm TFT touchscreen display with real glass surface. The high-resolution display impresses with its clarity, rich contrast, brilliant colors and high luminosity for optimal readability.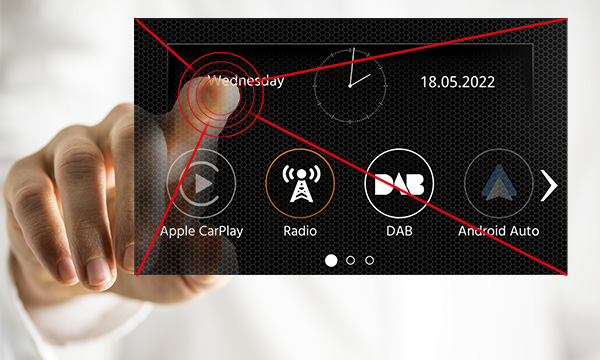 Adjustable Display
The X-127 features a display adjustment mechanism, to provide for an easy ad­just­ment and optimum display position in the central console of most cars: vertical tilt angle -20° to +23°, horizontal display tilt angle -15° to +15° and vertical height +37.5 mm.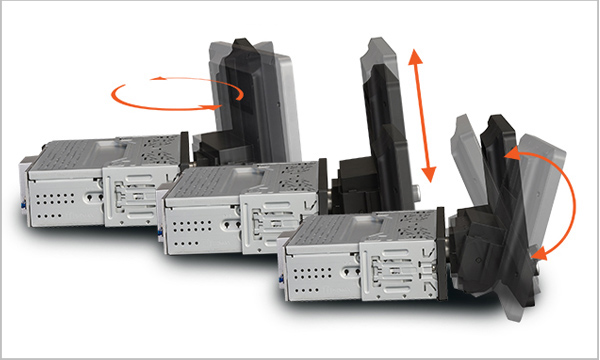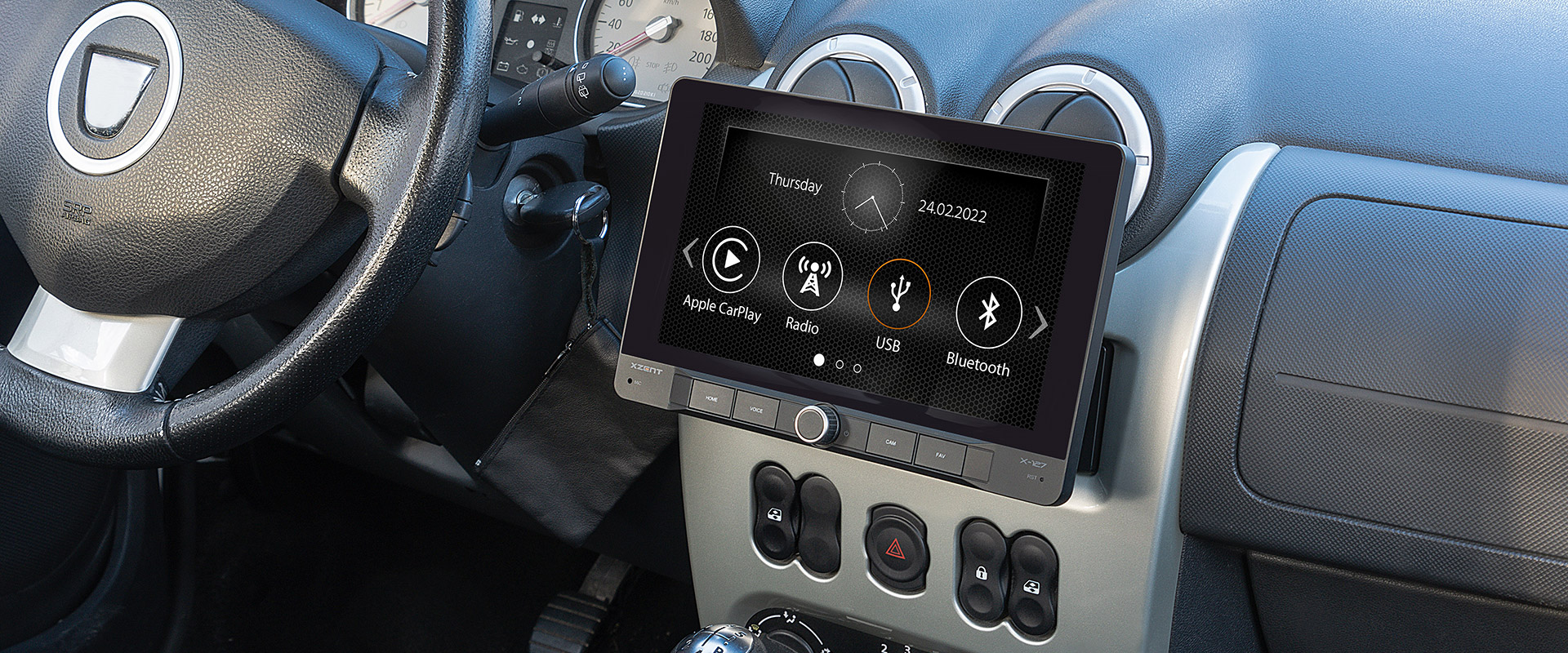 MART CONNECTION: DOCK YOUR MOBILE PHONE TO THE X-127
The X-127 provides for an easy and totally safe smartphone use in the car. The USB port on the device lets you dock your phone directly to the infotainer – the X-127 is Apple CarPlay and Google Android AutoTM certified. Making phone calls, use Google or Apple maps to find a destination, play music and send or receive messages is true mobile convenience where the choice is yours: control and operate apps either via device touchscreen or with Apple Siri or Google's voice assistants.
Apple CarPlay
You can dock your iPhone directly to the X-F127 via USB – the XZENT then supports Apple CarPlay. Make phone calls, use Apple maps, play music or send messages, you can control all supported functions conveniently via Siri voice control or via the large display.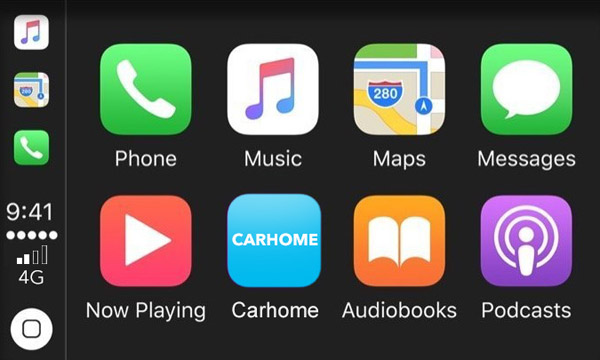 Google Android Auto
The X-127 is Google Android Auto certified. With GAA you are able to access compatible apps and online services of your Android smartphone in your vehicle and operate them intuitively with the display of the device or the voice assistant from Google.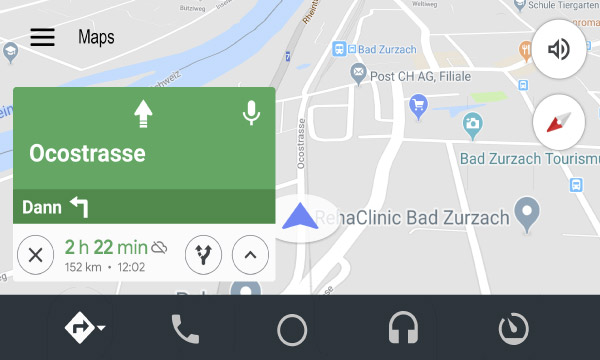 USB, DAB+ AND FM: YOUR ENTERTAINMENT ON THE ROAD
The X-127 also provides the best mobile entertainment and digital radio reception with its "par excellence" integrated DAB+ tuner. In areas without DAB+ broadcasting, the sensitive FM RDS tuner provides an excellent reception of conventional FM radio stations.
DAB+ tuner
The X-127 features a DAB+ tuner offering MOT Slideshow, Comfort Scan, DAB-DAB Service Following and DLS-text. Aside of these comfort features, the clear digital radio reception and the simple operation are additional score points.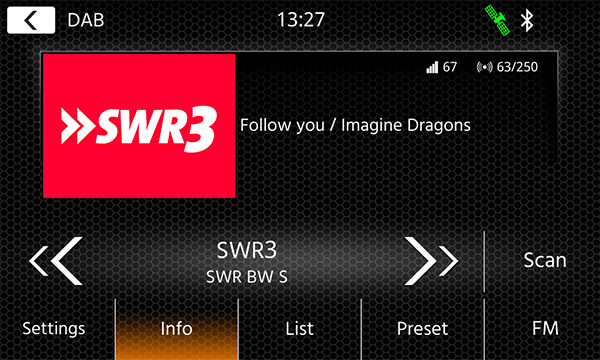 FM RDS radio
The FM RDS radio receiver of the X-127 integrates a DSP for better sound quality in areas of weaker FM reception. The radio stations can be stored in 18 station presets.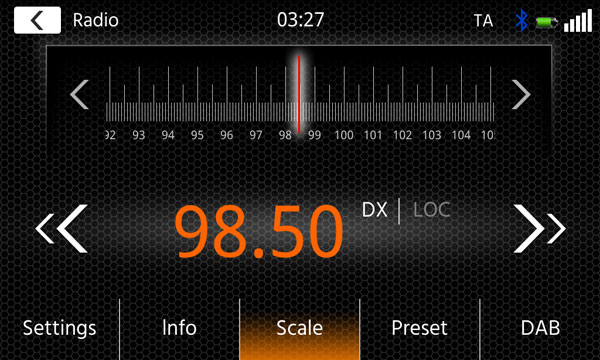 A/V playback
Two rear USB ports, made for iPod/iPhone, HDMI input and a broad media-file com­patibility: The X-127 is well prepared and ideally equipped for the latest A/V format playback.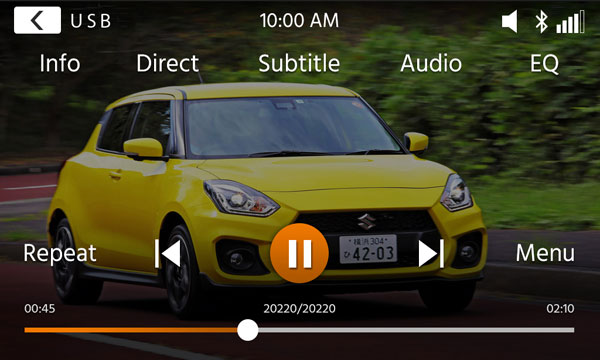 Bluetooth handsfree + music streaming
The up-to-date Bluetooth 4.2 module offers advanced audio post-processing like echo cancelling and noise reduction, as well as intuitive hands-free operation with several comfort functions: search function, import of up to 1,000 phone book contacts with 3 numbers each, etc. The Bluetooth module supports A2DP music streaming with AVRCP control of paired smartphones too.
Bluetooth 4.2 module with hands-free function
Import of 1,000 phone book entries with 3 phone numbers each
Memory-resident phone book with direct access to sync'd contacts
Phone book contact search function via keypad
Internal Bluetooth microphone, input for external microphone (microphone contained in the set)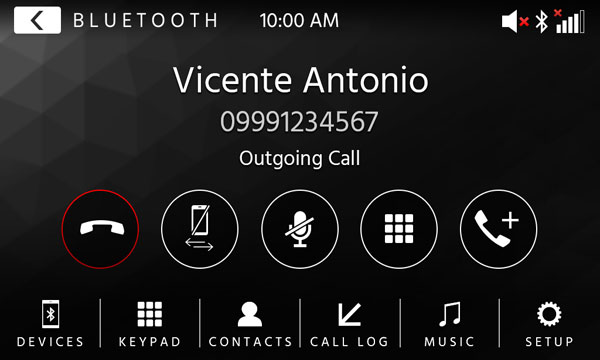 Connection of two camera systems
The XZENT X-127 features two RCA video inputs (Cam1/Cam2) for the control of two camera systems with switched power and auto switching logic. For better estimation of distance, grid line overlay can be displayed and adjusted.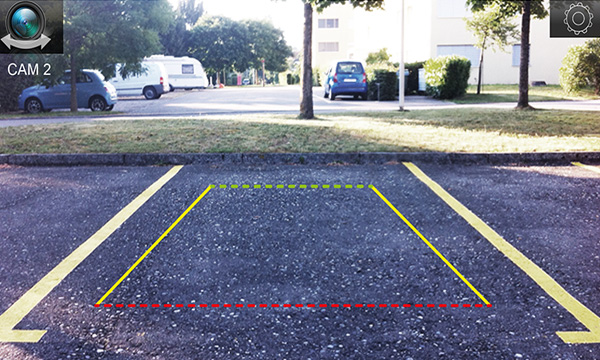 SWC integration
The X-127 enables connection to steering wheel remote controls via external SWC/CAN interfaces. Analog steering wheel remote control buttons can be connected, programmed and assigned directly to the X-127. For connection to the Fiat Ducato III, the Mini-ISO plug Z-EACC-FTSWC is available separately.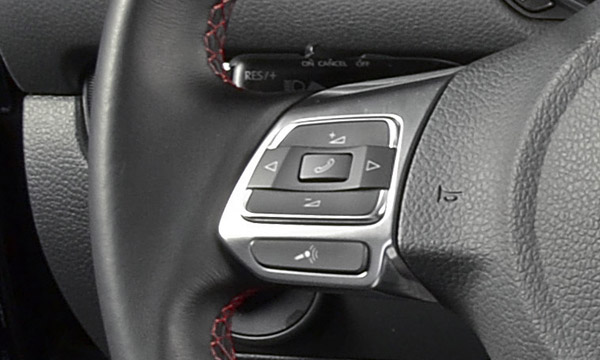 Illuminated RGB multicolour hard keys
The large hard keys enable accurate ope­ration while driving. The lighting color of the hard keys can be variably adjusted so that the X-127 integrates perfectly into the cockpit ambience of almost any vehicle.